Ronda Rousey's Four Horsewomen Set To Face WWE's Four Horsewomen
Challenge laid down during Mae Young Classic.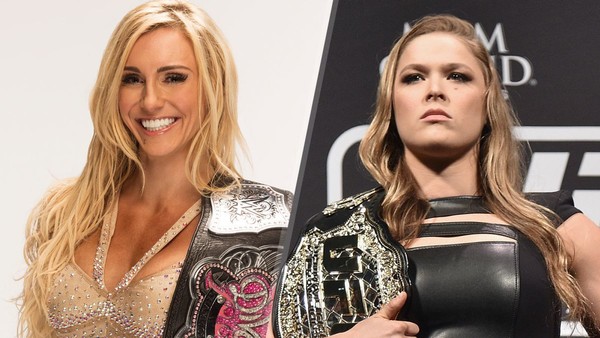 The long-awaited transferal of one of MMA's biggest stars to the squared-circle is edging ever closer, as Ronda Rousey appeared at WWE's Mae Young classic to issue a challenge to the organisation's elite group of female grapplers.
Rousey and fellow 'Horsewomen' Marina Shafir and Jessamyn Duke were on hand in support of the fourth spoke to their wheel, Shayna Baszler, as she progressed to the tournament's third round. Whilst speaking about the pride in their colleague's victory after the show, the trio were suddenly interrupted by three of WWE's own 'Four Horsewomen', Charlotte, Becky Lynch, and Bayley.
The six then stood around awkwardly for a little while until Rousey laid down the gauntlet, telling the interlopers, "Name the time, name the place." The prevailing theory is that the two quartets will collide in a traditional 4-vs-4 contest at November's Survivor Series.
Rousey and co. are long admirers of the wrestling business - their 'Four Horsewomen' moniker derives from Ric Flair's famous stable of the '80s - and so the transition from the Octagon to the ring has seemed inevitable for a while. Ronda appeared at WrestleMania 31 where she vaulted the barricade to share the spotlight with The Rock in a high-profile angle opposite Triple H and Stephanie McMahon, whilst Shafir is currently engaged to NXT standout Bobby Roode. Baszler herself has obviously already made the switch, with WWE said to be extremely positive about her performances so far.

The confrontation was published on WWE.com, available here.
Create Content and Get Paid
---