Samoa Joe Breaks Silence On AEW All In Controversy
Samoa Joe on CM Punk, Jack Perry, and AEW All In.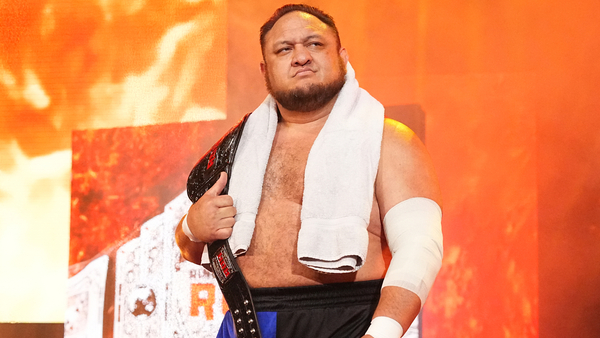 Samoa Joe was an important figure for AEW in a fateful night for the promotion at All In Last month - and the current World Championship contender has finally broken his silence on the situation.
As well as wrestling CM Punk in what turned out to be the Chicagoan's final match for the company, Joe is understood to have been present for the 44-year-old's backstage brawl with Jack Perry, which took place before the Wembley Stadium opener. In the 4 September Wrestling Observer Newsletter, Dave Meltzer reported that Joe "was a real leader" in the situation.
Now, in a new conversation with the New York Post, Joe has claimed that his main focus was getting All In back on track after the Perry/Punk altercation.
Joe spoke positively of his relationship with Punk, which had largely revolved around "stuff outside the world of wrestling and talking about life" for the past few years. AEW "rallied" after the incident, he claimed, taking pride in his role in that.
Said Joe:
"For the most part, I haven't read what's been portrayed (about the altercation at All In). There's been so much said. I'm not the one to go out there and try to debunk everything. I know we had the initial incident. Everybody rallied. Everybody got together. Got their heads together and lined up and got ready to do the show and we went out there and we did the show. That really was the focus at that point in time. We got a massive show to do and we got fans out there rabid to see that happen. So it's important that we step up and do it and it's important that we did and I was proud to be a part of that."
Continuing, Joe claimed that he was used to such environments, stating that he "wasn't really affected" by what happened:
"That's up to whoever perceived it (if it was as intense as described). I'm used to that environment. Those things don't seem very intense to me, but it could be something crazy intense to someone else. I wasn't really affected by the moment. I was more focused on getting the show back on track and getting us going because it was bell time."
Punk's fight with Perry ultimately led to AEW releasing the former World Champion with cause, doing so on 2 September.