Sasha Banks & Naomi's WWE Return Is "As Good As Done"
The former Women's Tag Team Champions edge ever-closer to a return to WWE TV.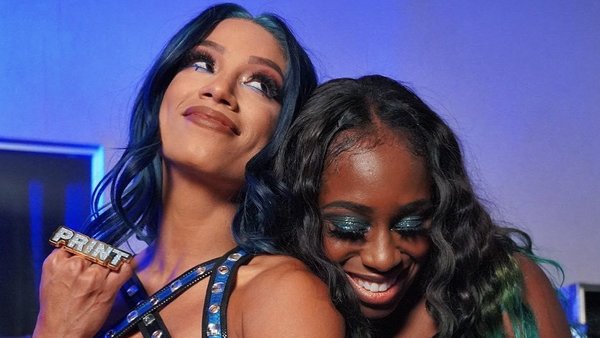 In the long-running will they/won't they be released/return saga, Sasha Banks and Naomi's return to WWE has now been labelled "as good as done".
Speaking on the latest episode of the Sunday Night's Main Event podcast, Dave Meltzer said that, despite contracts yet to be signed by the duo, the former Women's Tag Team Champions are indeed on their way back to WWE.
As Meltzer explained (via WrestlingNews.co):
"Last week, which is the last I checked, the contract hadn't been signed but they were all expecting that it was happening. They [WWE, Banks and Naomi] were all on the same page. I was basically told it's as good as done, but they haven't signed so it could fall through. They may have already signed by now, but a week ago [I was told] they're back. It could be tomorrow, it could be in a couple of weeks. It's whatever day they want. They are probably pacing things. You don't want to show all your cards in week one. You want to have something big to talk about every week for the next couple of weeks. An agreement in principle was reached over a week ago."
Of course, when Meltzer refers to "week one", that's in regards to WWE creative now being under the stewardship of Paul Levesque.
Given how WWE announced during Friday's SmackDown that a tournament would commence on tonight's Raw for the vacant Women's Tag Team Titles, that only intensified the speculation that Sasha Banks and Naomi would be returning to reclaim the prize they never lost. Either that, or the tandem may be in the wings waiting to face whoever emerges victorious in this tourney.
Back in May, the pair famously walked out on WWE due to creative frustrations, leaving their Tag Team Championships on the desk of John Laurinaitis in the process. WWE immediately stripped Banks and Naomi of the gold, placed the talents on suspension, and removed all of the duo's merchandise from WWE Shop.
For the longest period, it seemed only a matter of time before it was officially announced that the Team B.A.D. alumni had formally departed WWE. With the retirement/resignation of Vince McMahon, and with Triple H in creative charge of the company, that has seemingly seen a major U-turn for this whole situation.