Scott Hall To Be Taken Off Life Support, Kevin Nash Says
Per Kevin Nash, Scott Hall's life support will be "discontinued" once his family is in place.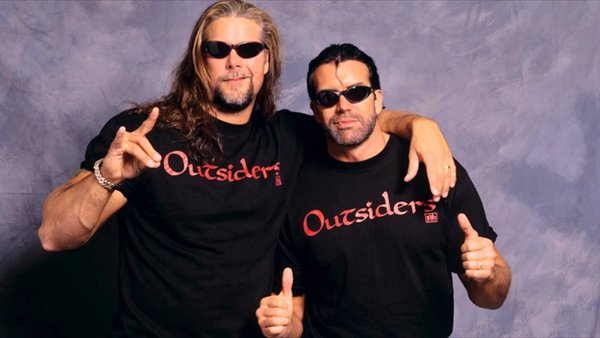 Today unfortunately brings us a sad new development in the Scott Hall situation, with The Bad Guy's long-time tag team partner and best friend Kevin Nash revealing that the 63-year-old is to be taken off life support.
PWTorch's Wade Keller revealed on Sunday that Hall had been put on life support in Marietta, Georgia after complications from hip surgery the previous week set a blood clot loose, causing him to have three heart attacks. Now, Nash has used Instagram to state that once Scott's family is in place, his life support will be "discontinued":-
Scott's on life support. Once his family is in place they will discontinue life support. I'm going to lose the one person on this planet I've spent more of my life with than anyone else. My heart is broken and I'm so very !*$% sad. I love Scott with all my heart but now I have to prepare my life without him in the present. I've been blessed to have a friend that took me at face value and I him. When we jumped to WCW we didn't care who liked or hated us. We had each other and with the smooth Barry Bloom we changed wrestling both in content and pay for those......alot that disliked us. We were the "Outsiders " but we had each other. Scott always felt he wasn't worthy of the afterlife. Well God please have some gold plated toothpicks for my brother. My life was enriched with his take on life. He wasn't perfect but as he always said "The last perfect person to walk the planet they nailed to a cross " As we prepare for life without him just remember there goes a great guy you ain't going to see another one like him again. See Ya down the road Scott. I couldn't love a human being any more than I do you
Close friends onscreen and off, Hall and Nash have been inseparable for the past three decades, from their collective time in The Kliq, as The Outsiders, and foundational New World Order members, to their short WWE return in 2002, their Total Nonstop Action stints, various nWo reunions, and beyond. Since the mid-90s, it has been virtually impossible to talk about one without mentioning the other.
The duo were last seen onscreen together at last year's dual 2020 and 2021 WWE Hall of Fame induction ceremony, where they entered as part of the New World Order with Hulk Hogan and Sean Waltman. Both men had been inducted as singles acts prior to this, with Hall entering as Razor Ramon in 2014 and Nash joining him the following year.
We at WhatCulture wish to extend our deepest thoughts and best wishes to Scott Hall's family and friends during this dark period.