Seth Rollins On Hulk Hogan: "He's Always Been Nice To Me, But That Doesn't Make Him A Great Human"
Rollins would put Hogan on his WWE Mount Rushmore - but not for "the kind of human" he is...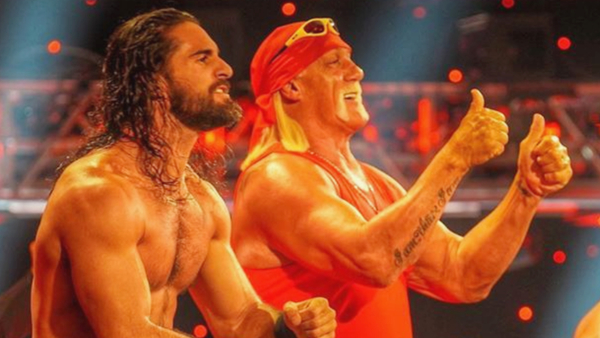 Seth Rollins says that while he believes Hulk Hogan's face belongs on WWE's Mount Rushmore, his contributions to the pro wrestling business aren't necessarily a reflection of the kind of human being he is.
Speaking on the Complex Sports Podcast, the SmackDown star put Hogan alongside John Cena, Steve Austin, and Bruno Sammartino on his personal WWE Mount Rushmore, saying that he included Hulk over his personal favourite wrestler, Shawn Michaels, for his professional contributions (h/t Wrestling Inc. for the transcriptions):-
"Shawn's my favorite. Shawn's my favorite wrestler of all time, but we're talking about contributions to WWE and what they've meant to the business."
Seth added that this has nothing to do with how these people are as human beings:-
"If it were up to me, in that situation, I would scratch Hogan off that sucker probably. But again, if we're just talking not the kind of human being you are but we're talking about your contributions as a wrestler to the company, okay, Hogan was responsible for everything that happened after the late '80s."
Finally, he surmised his balance take on Hogan without compartmentalising his own experiences with the troubled legend:-
"Look, Hulk's always been really nice to me, but that doesn't make him a great human being."
The bulk of Hogan's modern controversy comes from the leaked 2015 sex tape that saw him make several racist remarks against African Americans, during which he dropped a hard N-bomb and admitted to being "a racist, to a point." A weak non-apology followed, with Hogan attributing his use of the language to growing up in a neighbourhood where such words were "thrown around like it was nothing," adding that he didn't know he was being recorded.
Create Content and Get Paid
---