Seth Rollins Shoots HARD On WWE Legend Booker T
WWE star takes issue with Raw Talk suggestion that he took an easy road to the top.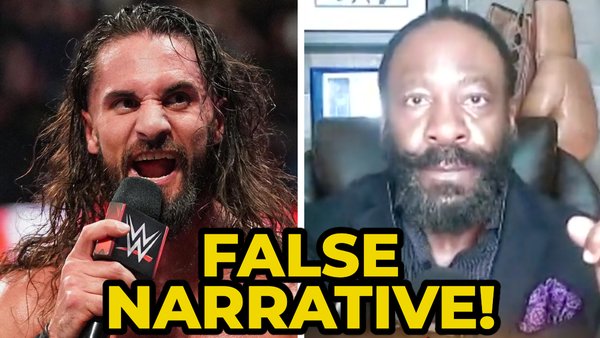 WWE star Seth Rollins has taken issue with Booker T's suggestion that he took an easy road to the top of professional wrestling.
Booker's comments came during last night's episode of Raw Talk. Speaking following the announcement that Rollins and Cody Rhodes will wrestle for a third time at Hell In A Cell 2022 (5 June), the WWE Hall of Famer gave the following answer when asked who needed the win more:-
"Of course Seth Rollins needs this win more. I mean, Cody Rhodes right now is 2-0 heading into the rubber match and I must say, Cody Rhodes, he's not one of those guys that had that easy route. He had to work for everything. Seth Rollins is a guy that made it to the top relatively easy but I must say, he had a lot of help. Cody had to break himself down and rebuild himself and that's the Cody Rhodes that we see today."
Rollins caught wind of this soon after WWE uploaded the relevant clip to Twitter. He proceeded with a fierce rebuttal, calling Booker's narrative "false" before summarising his pre-WWE experiences:-
This narrative is false. I started wrestling at 18 years old in back rooms of bars, in pole barns, at UAW Halls, the occasional parking lot. Lost money. Broke bones. Drove countless hours alone just to build a name that got erased the second I walked in the WWE door. https://t.co/whmlH2nHNs

— Seth FREAKIN' Rollins (@WWERollins) May 17, 2022
A wrestler since 2005, Rollins has been signed to WWE since first entering the developmental system in 2010. Prior to that, he had made his name as Tyler Black under such banners as Ring Of Honor, Full Impact Pro, and Pro Wrestling Guerrilla.
Recent premium live events have not been kind to Seth, who lost to Rhodes at both WrestleMania 38 and WrestleMania Backlash in April and May respectively.
Please include a H/T and link back to WhatCulture if using any of the above quotes, while also linking to the original source.