Seth Rollins Vs. Rey Mysterio Getting CGI Eye-Gouging Treatment!
It gets worse. Or funnier, depending on one's perspective.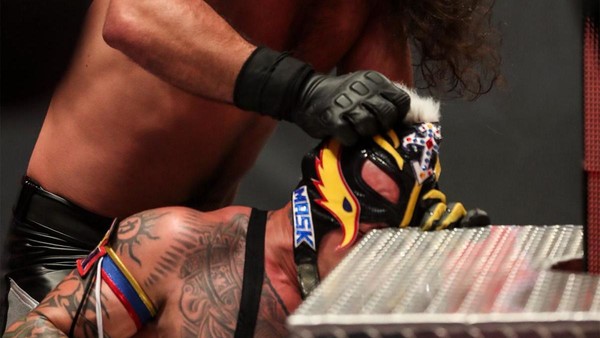 Dave Meltzer reports in this week's Wrestling Observer Newsletter that, Christ almighty:
"Besides the Bray Wyatt vs. Braun Strowman non-title match billed as a fight at the swamp, the plan right now is also to tape the Eye For An Eye match with Rey Mysterio vs. Seth Rollins. They are billing the match as one that can only end when one person pulls the others' eye out. The idea is to do a taped match and use some form of CGI effects to simulate an eye being pulled out as the finish."
Is it literally impossible for this to be good?
This is a ridiculous match with a ridiculous stipulation juxtaposed with a very serious and solemn storyline. One tone will wildly undermine the other. Your writer half-called this, under the belief that the Horror Show at Extreme Rules is so-called precisely because such an angle made a terrible kind of sense, but that was under the idea that a prosthetic of some sort would be used at the finish of a regular wrestling match.
Because...why book two performers of this calibre in something that isn't a pro wrestling match on a pro wrestling show? They're not banter merchants or great actors, particularly.
Why is this happening?
And why can't you wait to see it?
Is it because there's another Seth Rollins promo to endure first?
Create Content and Get Paid
---