Shaquille O'Neal's In-Ring AEW Debut Confirmed!
Shaq and Jade Cargill team to face Cody Rhodes and Red Velvet next month.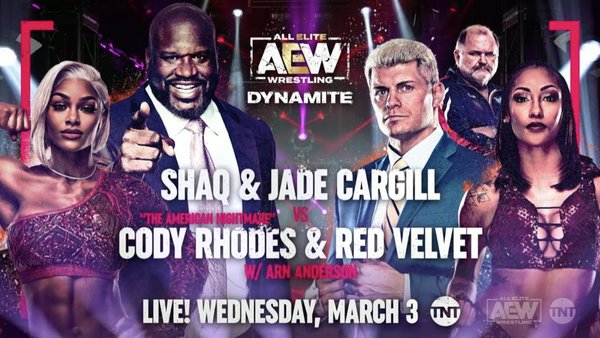 Shaquille O'Neal and Jade Cargill will team to face Cody Rhodes and Red Velvet on the 3 March episode of AEW Dynamite.
This was confirmed during last night's Beach Break special. Velvet had already challenged Shaq and Cargill to this exact match on last week's show, so the only real surprise is that it is going down on Dynamite, not the Revolution pay-per-view on 7 March. Rather than using it to potentially spike the PPV buyrate, AEW is attempting to pop a television number.
Shaq and Jade will both work their AEW debut matches here. For Shaq, that means lacing up his boots for the first time since competing in WrestleMania 32's Andre the Giant Memorial Battle Royal. Cargill, meanwhile, will be working her first pro wrestling match ever, having been introduced to the AEW audience in a speaking role.
Velvet is a replacement for Brandi Rhodes, who was one of the storyline's main focuses prior to her pregnancy announcement. Velvet's brawls with Cargill and existing involvement with the Nightmare Family made her a natural substitute.
There's no telling what this bout will actually look like once it hits the ring, given one participant is a retired seven-foot basketball player and another has never wrestled on television, but the intrigue is in finding out.