Shinsuke Nakamura Becomes WWE's New 'King' - Baron Corbin About To Change Gimmicks?
This could be the end of the road for 'King' Corbin after Friday's SmackDown.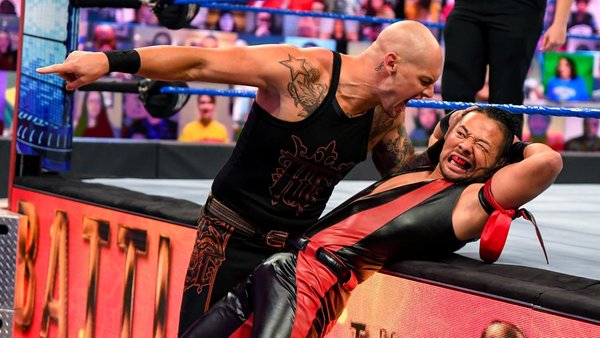 Shinsuke Nakamura seemed to officially nab Baron Corbin's 'King' moniker during a blowoff match on the latest SmackDown.
WWE booked both men in a bout that'd decide the 'One True King', and Naka got the nod in another short-ish showing between the pair; their feud hasn't been the most satisfying in-ring. Both guys appear to have a decent amount of chemistry, but they haven't really been given a lot of time to work with every week.
Post-match, a devastated Corbin watched Nakamura sit on his throne as guitar-playing Shinsuke super fan Rick Boogs handed his pal the crown. This appears to be the end of Baron's run as 'King' - he started that gimmick after winning the last King Of The Ring tournament in September 2019.
Most fans suspect this is WWE's way of teasing a return for the famous tourney. If so, then it's pretty random that they've decided to crown Nakamura before it even happens. It'd be a huge anticlimax if Shin then went on to win the tournament in a few months and, say, kept his new royal title.
This could also be the start of something new for Corbin. He'd taken that 'King' thing as far as he could anyway, and a new gimmick could be incoming.
Create Content and Get Paid
---