Shocking Heel Turn Closes AEW Dynamite, Top Star Betrayed!
Last night's AEW Dynamite closed on a huge twist in the form of a major turn.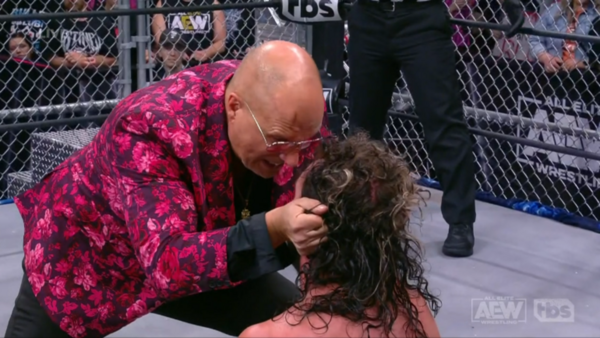 Don Callis turned on last night's episode of AEW Dynamite, betraying Kenny Omega in a shocking twist to close the show.
Omega's Elite have been feuding with Jon Moxley and the Blackpool Combat Club for several weeks now. This built to a Cage Match between Moxley and Omega on last night's Dynamite, which Omega had appeared to have one after a brutal outing featuring several killer spots, including a V-Trigger sending both men through the cage wall.
Kenny's One-Winged Angel on Moxley appeared definitive. Callis, who had entered the ring through the hole in the wall, lunged at Kenny as the referee's hand was about to hit the mat a third time, attacking him with a screwdriver. This was enough for Moxley to land the pinfall.
AEW lingered on the moment for several minutes after the bell. The post-match segment saw Callis tease skewering Omega with the screwdriver again, though he ended up kissing his forehead and shoving him down instead.
Callis and Omega have been aligned in AEW since December 2020, when Don was revealed as Kenny's 'Hidden Hand', helping him capture the AEW World Championship against Moxley. Last night was therefore the mirror of that. Their history goes back decades, though, with AEW running with the idea that Callis and Omega have been lifelong friends during this on-air reunion, informing the drama.