Short-Lived Star Says He Wanted "Bigger" Moment In WWE
This 'one-and-done' WWE star fancies another crack at things post-pandemic.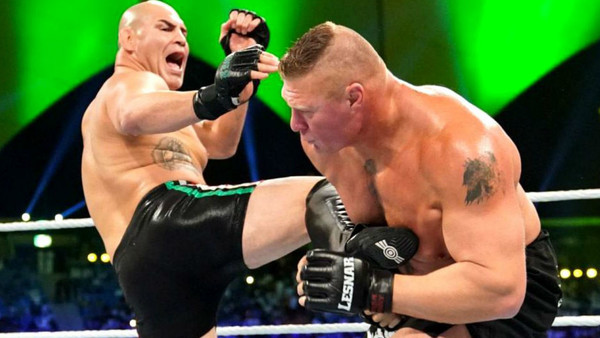 Ex-UFC fighter Cain Velasquez has admitted he was left totally unsatisfied by his only WWE match.
Cain, who hopes for another chance post-pandemic, told 'In This Corner' that he wanted a much "bigger" moment against fellow Octagon alumni Brock Lesnar than the Crown Jewel 2019 battle they worked. It turns out that Velasquez was left just as cold by that as most wrestling fans were.
The match opened the card, but it was too short to really achieve anything - afterwards, Cain was gearing up for another attempt when COVID-19 blasted the world and changed everything. Suddenly, WWE weren't so interested in booking a rematch or any follow-up at all for Velasquez vs. Lesnar.
His entire WWE experience left a bad taste in Cain's mouth. He also pointed out that he struggled to adjust to WWE's style, would've been much more comfortable doing some lucha libre, and that it was obvious he was "thinking so much" at Crown Jewel.
He doesn't think he did himself justice, in other words.
Velasquez plans to launch a WWE comeback at some stage, but says he wants to "develop" elsewhere first.
Create Content and Get Paid
---