Sin Cara Makes First Appearance Since Leaving WWE
Lucha star turned up in AAA last night despite non-compete clause.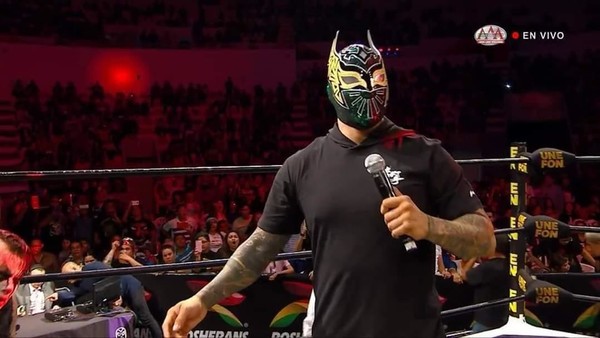 Sin Cara showed up unannounced at AAA's Guerra de Titanes event last night, in Madero, Tamaulipas' Domo Madero. In his street clothes - albeit with distinctive mask - the interloper ran-in on behalf of babyface Pagano, preventing a beat down by Killer Kross.
It is the luchador's first wrestling appearance since he was granted his WWE release on 8 December.
After making the save, Sin Cara - operating under the name of the character trademarked to his ex-employers - took the mic, and said he was in the company to help his friend.
Sin Cara - real name Jorge Arias - is said to be under a 90-day no-compete clause following his Stamford exit. Legally, he's not allowed to enter the ring for a match until 8 March.
Last night was not Arias' first AAA appearance. Back in 2004, he was a regular hand in the company, during which time he changed his moniker from 'Mistico' to 'Incognito' to avoid any legal complications with former bosses CMLL. Apparently, such concerns don't bother him this time around.
In addition to Sin Cara, WWE also let Luke Harper and The Ascension go as part of their 8 December clear-out.
Create Content and Get Paid
---