Star Admits Forgetting Match Finish At WWE Extreme Rules 2022
Nerves got to this star at WWE Extreme Rules 2022.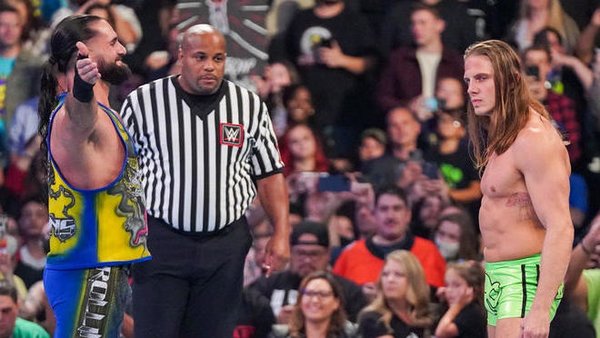 Daniel Cormier has admitted to forgetting the finish for Seth Rollins and Matt Riddle's Fight Pit match at WWE Extreme Rules 2022, for which he was brought in as a special guest referee.
The former UFC Heavyweight and Light Heavyweight Champion said as much on his DC&RC Show for ESPN MMA. Cormier, who ultimately gave Riddle a submission victory while his fellow former UFC star had Rollins locked in a hold, said that while he had fun at Extreme Rules, nerves got the better of him.
Per DC himself (h/t Sportskeeda):-
"I was in the back and I was nervous, because obviously you know the outcome, I started forgetting the match, I was like oh my goodness. I forgot the (ending), I was so nervous bro, but once I walked out there bro, it was so fun! The energy of the crowd, is like second to none."
Cormier was announced as the referee the week before Extreme Rules. The lifelong wrestling fan then cut a pretaped promo on the go-home episode of Raw, having long been rumoured for a role in wrestling, one-off or otherwise.
Having retired from MMA in August 2020, Cormier relished his small physical role at the premium live event:-
"Then I got a little physical, I threw Riddle down, I hemmed up Seth Rollins, I got him up under the neck with the right arm and everything. I was having the time of my life."
Whether or not Cormier will be back in WWE is currently unknown.