Steel Cage WrestleMania Backlash 2022 Rematch Set For Next Week's Raw
Bobby Lashley and Omos to lock up again in match designed to keep MVP out.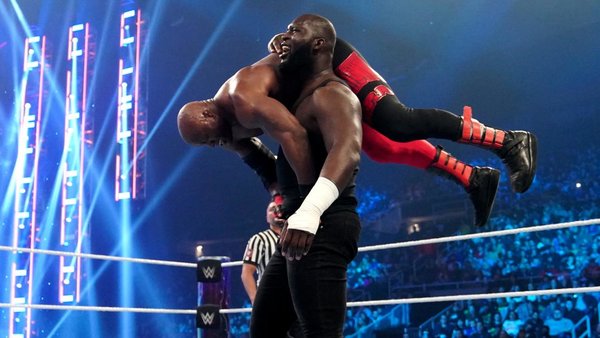 WrestleMania Backlash might have been chock full of WrestleMania rematches, but at least one of those rematches is now locked in as a trilogy.
Bobby Lashley and Omos have split their first two matches, with Lashley winning at WrestleMania 38, and Omos victorious Sunday night at WM Backlash after picking up MVP as his manager. MVP paid immediate dividends, getting involved behind the referee's back Sunday to help his charge pick up the win.
Monday night, MVP and Omos were celebrating in the VIP Lounge (with Cedric Alexander trying to join them) when Lashley stormed the ring, dispatching security and Cedric easily. He clotheslined Omos out of the ring and tried to get to Porter, but Alexander intervened.
This led to Lashley later challenging Omos to a rematch on next week's Raw inside a steel cage, which was made official before the end of the show.
NEXT MONDAY on #WWERaw@fightbobby vs. @TheGiantOmos in a STEEL CAGE MATCH@The305MVP pic.twitter.com/TIuGpUcONN

— WWE (@WWE) May 10, 2022
Of course, a steel cage match is designed to prevent outside interference, but we've seen that premise disproven time and time again in cage matches, so don't think that MVP will be neutralized for one minute.
Sunday's bout was potentially Omos' best singles match in WWE yet, so it will be interesting to see if next week's match is an improvement or if the Backlash contest was a high-water mark in this feud.