Stephanie McMahon Announces Vince's WWE Retirement, Leads 'Thank You' Chant
New CEO's show-opening SmackDown promo ignores reasoning for Vince's departure.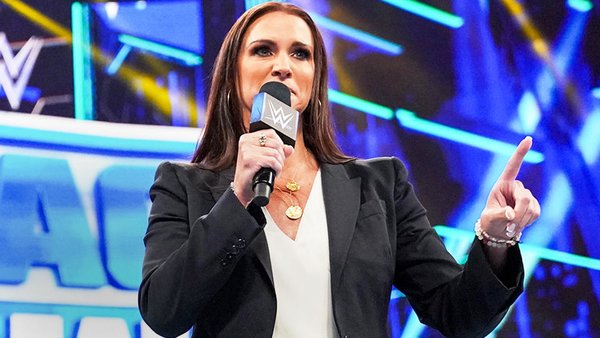 In what could easily be described as a tone-deaf, reality-ignoring show-opening promo, Stephanie McMahon kicked off SmackDown Friday night by announcing that Vince McMahon had retired from WWE... and then led fans in a "Thank you Vince!" chant.
Vince bought WWF/E from his father in 1982 and transformed the company from a regional promotion into a global empire that is widely recognized as the leader in sports entertainment and often is the first company the general public thinks of when they hear "professional wrestling." That is no small feat.
A somewhat tearful Stephanie touched on this and noted that Vince thanked the WWE Universe on his way out the door and then suggested that fans repay the sentiment, leading the crowd in the chant. She then mouthed, "I love you, dad" to the camera.
However, Stephanie's promo ignored the fact that Vince was retiring after the Wall Street Journal dropped two bombshell stories in the past month about McMahon's alleged "sexual misconduct" and infidelity, reportedly paying more than $12 million for silence from various women about these actions, including a $7.5 million settlement paid to a former wrestler Vince allegedly coerced into giving him oral sex, demoted and then declined to renew her contract when she rebuffed other attempts.
.@StephMcMahon addresses the WWE Universe to kick off Friday Night #SmackDown! pic.twitter.com/7PgqTuqSi8

— WWE (@WWE) July 23, 2022
While it couldn't have been easy for Stephanie to go on live TV just hours after her father stepped down in disgrace, getting up there and guiding fans in a "thank you" chant is probably not the best move for the company's new leader.