Stephen Amell To Wrestle Stardust At WWE SummerSlam
The star of TV's Arrow will have three months to prepare for his WWE debut.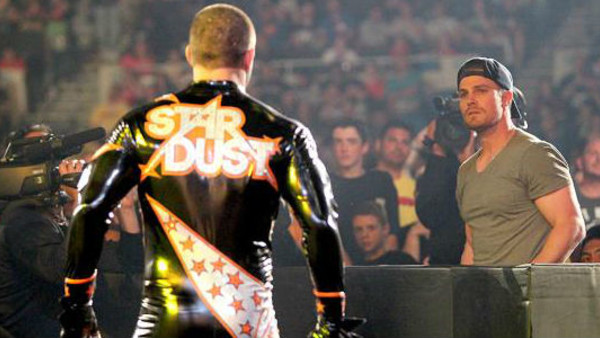 There will be a celebrity match at this year's SummerSlam when actor Stephen Amell goes one one with Stardust. As we noted a few days ago, following their brief altercation at ringside on Raw, there is a plan in place for the star of TV's Arrow to return to WWE. While a match was considered a possibility, it has now been confirmed by celebrity news website
Hollywood Life
, who reported that the match will take place at SummerSlam on August 23 in Brooklyn, New York. While the match hasn't been confirmed by WWE or Stardust yet, Amell did reference it in a
tweet
saying he had "wrestling moves to learn." The article also notes that €œWWE and Stephen are deciding if he should wrestle as himself or Arrow" and that we should know that answer within a few weeks. If he worked as Arrow it could be an interesting sight with these two characters in the ring. https://twitter.com/amellywood/status/603018194161393664 Amell is a lifelong wrestling fan who is also in tremendous shape and as an actor on a demanding television show with a lot of physical activity where he does his own stunts. He's also currently filming the Teenage Mutant Ninja Turtles 2 movie where he's going to be Casey Jones. Another WWE star, Sheamus, is in the film as Rocksteady. Since SummerSlam is three months away, Amell will have time to learn some basics and get through a match. Stardust has always been a very good in-ring technician that will be good for Amell to work with. They could probably put together something decent in a five minute match although if he's capable of more they might get ten minutes. Some celebrities have held their own in the ring while many have not. In order for the match to actually mean something, WWE will need to spend the next three months booking Stardust better because he loses nearly every one of his matches. While he does get some heel heat when he gets mad at the fans for chanting "Cody" at him, he's really not close to being a top heel anymore. We should also see Amell make some more appearances to set up the match. WWE has always embraced celebrity involvement and this is no different. Look for this story to continue over the next three months leading into SummerSlam where this match is likely to take place.
Create Content and Get Paid
---