Steve Austin Reveals What He Told WWE Boss Vince McMahon About Mike Tyson
'Stone Cold' was a little salty about the thought of Mike Tyson gatecrashing WWE.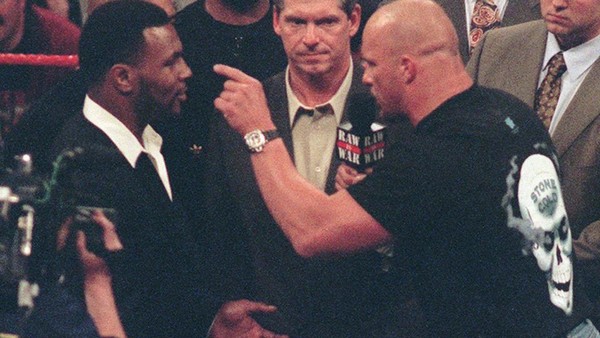 'Stone Cold' openly questioned Vince McMahon's decision to draft in Mike Tyson for a 1998 run.
The would-be WWF Champion, who was scheduled to win the belt from Shawn Michaels at WrestleMania XIV, outright asked McMahon why the company needed Tyson at all. That's something Steve Austin has since told Busted Open Radio even he can't believe he said.
"That's how stupid I was", he said with a smile during an interview with Mark Henry.
Austin also admitted that he was "all about business" back then. That's why he's so stunned at himself for wondering aloud why his employer would want to associate itself with one of the hottest celebrities on the planet.
Ol' 'Stone Cold' got that one wrong.
Austin didn't really change his mind on Tyson until Mike started showing up on Raw. Suddenly, the entire world was talking about the WWF, and the penny dropped. Vince had pulled off a masterstroke, and Steve had to tip his cap to the boss.
It's amazing to think that Austin was dead set against seeing Tyson appear on WWF programming when McMahon first broached the subject in late-1997.
Create Content and Get Paid
---