Stone Cold Calls His WWE '3:16 Day' Promo "Bad Material"
Steve Austin had a bad time cutting that promo on WWE Raw last year.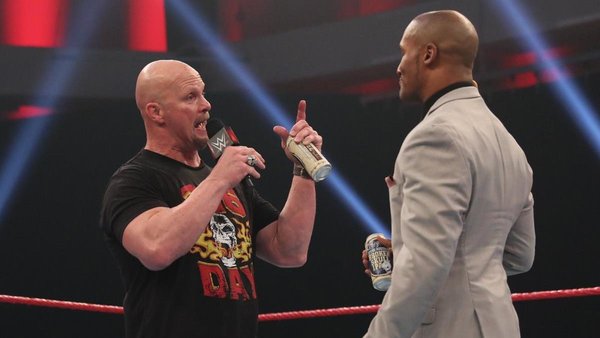 Steve Austin wasn't sweet on last year's '3:16 Day' experience then, and he doesn't like it now.
The WWE legend revealed all during an interview with the 'Rasslin With Brandon F. Walker' podcast, and said he actually didn't want to cut a 'Stone Cold' style promo on the 16 March 2020 episode in the first place. Instead, Austin fancied doing a straight up interview with Byron Saxton and leaving it at that.
WWE booked him to raise some hell like it was 1998, smash Saxton with a trademark Stunner and then interact with Becky Lynch; to be fair, most fans tuning in to see the icon probably expected that, so WWE's logic is watertight.
Austin didn't enjoy himself though.
He described the empty Performance Center as "tough", and said it sucked to try and work his usual routine without any feedback from an audience. Then, Steve called WWE's original script "bad material to begin with". Ouch.
Austin came away feeling like the skit should've been better, and he still sighs when he thinks back on the '3:16' bash almost a full year on.
Create Content and Get Paid
---