'Stone Cold' Steve Austin "Hated" THIS Huge WWE WrestleMania Main Event Of His
Stone Cold is not a fan of one of the biggest matches in his career.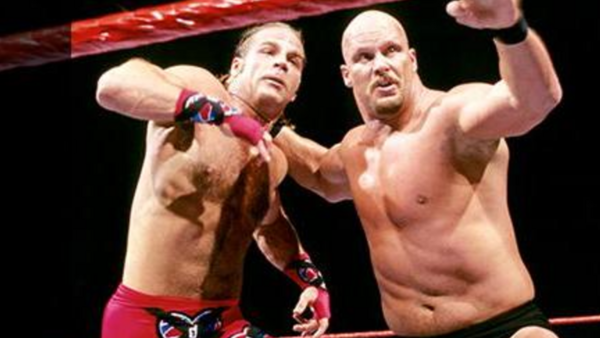 With some of the greatest matches in WrestleMania history to his name, one 'Mania bout that 'Stone Cold' Steve Austin isn't a fan of is his WrestleMania XIV outing against Shawn Michaels.
Of course, that Michaels match saw Austin emerge victorious and embark on his first reign as the WWE Champion. Still, while he appreciates how much of a big deal that match and moment was, the Texas Rattlesnake "hated" that bout.
Speaking during an appearance on UpUpDownDown (via Fightful), Austin explained:
"It was special because it was my first title, my World Title, so that was [as] a big deal for me as it was for everybody. The match, on a 1-5, a 2. Shawn, and I consider, from bell to bell, I consider Shawn to have [no flaws]. Now Bret [Hart], as far as realism, you can't top him. [Ric] Flair is my travelling World Champion, he's the man. But from bell to bell, talent-wise, nobody can lace Shawn Michaels' boots. So, to go out there and have a lacklustre match with him at the biggest show of the year, WrestleMania... It would cool being out there with Mike [Tyson]. Me and Shawn could have had a way better match, but he was in a bad place, he was injured. I was just red hot."
The Bionic Redneck would add:
"I hated that match, and I love Shawn and I have the utmost respect for him, but I don't consider that to be a good match at all. I remember walking to the back, and I told Vince, 'Hey man, that match was the [sh*ts]'. He just patted me [on the back] and [said], 'Well get it tomorrow on Raw'. Yeah, it wasn't about the match, it was about transferring that title. I think Shawn was in a real tough place personally and in a lot of pain. It was a funky match. I didn't know if he was even gonna walk to the ring. I didn't know if he wanted to walk to the ring."
As alluded to by Austin, that WrestleMania XIV match was Michaels' last one before entering retirement. Of course, that was due to back issues suffered as a result of a bump onto a casket at the 1998 Royal Rumble.
While Michaels would stay retired for nearly four years, he'd be cleared to return to action at SummerSlam 2002, where he'd beat former DX buddy Triple H in an unsanctioned match. From there, the Heartbreak Kid would resume his in-ring career and compete for a further eight years prior to calling time on his career at WrestleMania XXVI - before coming out of retirement once more in Saudi Arabia for Super Show-Down in 2018.
In terms of Austin, while his Michaels match may have disappointed Stone Cold, his WrestleMania offerings against Bret Hart and The Rock are held up as some of the very best in the history of WWE's Granddaddy of Them All.