Terry Funk Calls Exploding Deathmatch The Roughest Match He's Ever Been In
Sage advice for Jon Moxley and Kenny Omega ahead of AEW Revolution.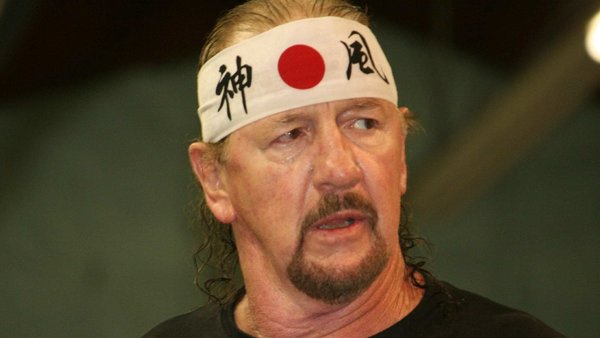 Pro wrestling legend Terry Funk is a man who knows a thing or two about getting blown up, and as AEW prepares for its first ever exploding barbed wire deathmatch, the 76-year-old has shared his thoughts on the controversial stipulation.
Speaking to Sports Illustrated ahead of tonight's Revolution 2021 pay-per-view, the Funker called the stipulation the roughest he has ever been part of:-
"It's the roughest style match I've ever been in. I put a lot into those matches. I put in 100%, and I came out with a lot of damage to my body. If you want to make this match work, you need to give the people their money's worth. That's the bottom line, that's the most important thing. You need to do whatever you can to accomplish that. Physically, that can sometimes be a rugged game to play."
Funk wrestled Atsushi Onita in the stipulation's most iconic outing for FMW back in May 1993. A grisly, dramatic classic, that bout relied as much on anxiety and horror as it did the literal explosions, and still stands as the benchmark today.
Jon Moxley and Kenny Omega revive the gimmick tonight - but with a twist. Here are Omega's custom rules:-
Funk offered the following advice for the AEW World Title combatants:-
"Confidence is the key to success in this match. And wrestling a match like this, it shows how much you love what you do. I've always loved this business. It's my profession. It's changed, it's evolved, but there are still some great people in it and around it, like these two. I admire what they do in the ring. This is a tough match. It was for me at least, as tough as it could possibly be. It's up to them how they treat it. This match, their job is to go ahead and give the people their money's worth. If they do that, their match will live on for a long time. These two guys, I think they'll do it to the best of their ability."
Funk's 1993 dance partner, Onita, was supposed to be in the house tonight, though those plans were scuppered by the ongoing global health crisis' travel restrictions. Perhaps we'll see the Funker in the Daily's Place bleachers instead.
Check out AEW Revolution 2021 on FITE TV, live tonight from 8pm EST.
Create Content and Get Paid
---