Tessa Blanchard Exploits "Nuclear" Heat For New WOW T-Shirt
The former IMPACT Wrestling World Champion's near merch references talk of backstage heat.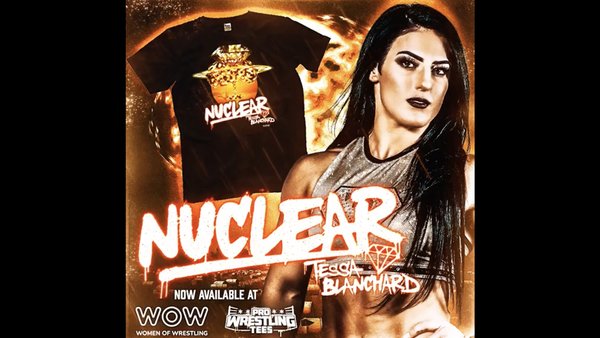 Tessa Blanchard's new WOW - Women of Wrestling t-shirt directly references a recent report that she has "nuclear" heat in the wrestling business.
Bodyslam.net's Cassidy Haynes reported on 7 September that the former IMPACT Wrestling World Champion, who has been a free agent since June 2020, wouldn't be signing for WWE or AEW anytime soon, sourcing the following quote:-
"She's nuclear. Nobody wants near her."
Tessa has since been confirmed for the WOW revival, which returns to television via Viacom in September 2022. Yesterday saw the promotion release the aforementioned t-shirt through Pro Wrestling Tees:-
Stand back she's NUCLEAR! Get your new @Tess_Blanchard t-shirt exclusively on @PWTees right now! ? ☢️

Click the link to get yours:https://t.co/nnNKo02CY9 pic.twitter.com/vZIjACCA9I

— WOW (@wowsuperheroes) October 7, 2021
The move has drawn understandable flak, given Blanchard's past. Though the 26-year-old was the subject of stories regarding disruptive behind-the-scenes behaviour several times prior to this, January 2020 saw her become embroiled in scandal when multiple wrestlers accused her of bullying and using racist language against Puerto Rican wrestler La Rosa Negra, with Chelsea Green, Allysin Kay, and other notable names amongst those who spoke out.
Tessa denied the allegations, deciding not to issue an apology:-
I hope everyone will take a moment to read this. pic.twitter.com/gRPUlCYd6a

— Tessa Blanchard (@Tess_Blanchard) January 17, 2020
Regardless of this, Blanchard was crowned IMPACT Wrestling's first female World Champion a few days after the allegations blew up. She was out of the company by June, however, having been stripped of the title and let go from her contract through fear of her no-showing the Slammiversary pay-per-view after failing to submit requested video content while taking a leave of absence during the COVID-19 pandemic's early stages.
Blanchard has wrestled just one match since leaving IMPACT, facing Kylie Rae for Warrior Wrestling on 12 September 2020.