The Disturbing Truth Behind WWE Universal Title
A genuinely disturbing statistic is contained within...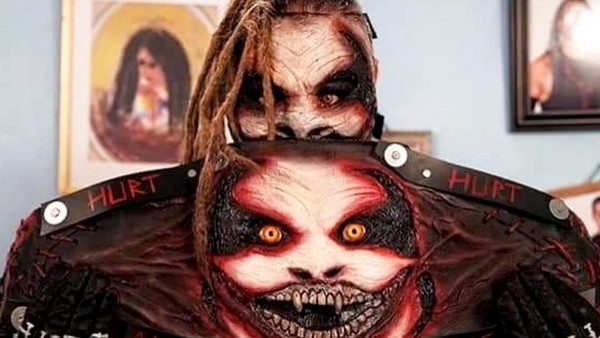 On Friday's edition of WWE SmackDown, the Fiend Bray Wyatt unveiled - to much derision - his custom Universal Championship.
It is, to put it succinctly, an abomination: ironically priced at $6,499.99, it is a dollar store version of the Fiend's trademark Slipknot/Joker mask. The strap is a sort of mess of burgundy-coloured veins, the leather and metal fixings resemble your first high school experiment with metal-adjacent fashion, and the words 'HURT' and 'HEAL' are daubed all over it. It is unspeakably ugly, and exists to sell replica versions of itself, which undermines the aura of the Fiend somewhat. Does he remove the mask when looking at his merch cheque, so that he clearly see the amount of 0s?
But it's not merely an abomination of design. It's an abomination of concept; this Fiend character was dreamt up from Bray Wyatt's deranged imagination as a sort of rebirth. He referred to his past self in the very first Firefly Fun House vignette as a "pathetic slob loser," and to get that M.O. over visually, he took a chainsaw to a cardboard cut-out of the old Eater of Worlds in his butcher's apron. Then, at SummerSlam, he made his iconic entrance by remodelling his prop. It was no longer a traditional lantern; he had created a source of light from the dark depths of humiliation. He carried the disembodied head of his old persona to tell us, once and for all, that the old Bray Wyatt was dead.
Bray Wyatt once used this self-drawn symbolism to kill the past. He is using it now, in a betrayal of whatever this character is, to flog toys to the most ardent of WWE hardcores. The Universal Championship is now a toy.
But has it ever meant anything?
CONT'D...(1 of 5)