The Elite Troll CM Punk HARD On AEW Dynamite In Chicago
Kenny Omega bit a man in CM Punk's home as The Elite faced Death Triangle. Ace Steel in the mud.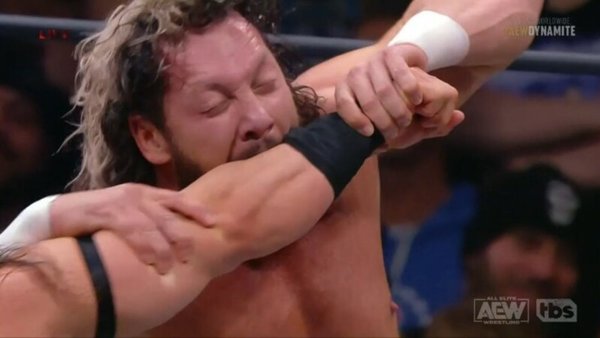 Last night's episode of AEW Dynamite was guaranteed to be a spicy affair, taking place, as it was, in Chicago, Illinois mere months after the industry-shaking blow-up between The Elite and hometown kingpin CM Punk at All Out 2022 - and The Elite knew it.
Kenny Omega and The Young Bucks were in full-on troll mode before a red-hot crowd that, to their credit, lapped every single drop of it up. The Elite read the room perfectly, played one of the best audiences of the year like master politicians, and looked to have a lot of fun in their Trios World Championship match with Death Triangle.
The Elite ultimately lost this second match in their best-of-seven series with PAC and The Lucha Brothers, falling when Matt Jackson was struck with Death Triangle's signature hammer. Omega and The Bucks thus fell to 0-2 in the series. Regardless, the match was about more than this.
Kenny and the Bucks played to the Punk drama throughout. Embracing their heel side, they trolled the now-former AEW World Champion relentlessly, with Kenny performing the Go To Sleep taunt early, then hitting Punk's actual move later on.
This came between Matt deliberately botching 'Hangman' Adam Page's Buckshot Lariat, mimicking Punk, who notoriously flubbed the move earlier in the year. Elsewhere, Omega sunk his teeth into PAC's arm, doing as the since-released Ace Steel had done to him in the Brawl Out fight, leaving him with a visible mark on his arm for weeks afterwards.
For those living under a rock, Punk has been suspended from AEW since brawling with The Elite after All Out, having attacked the trio (and others) during his incendiary post-show press scrum rant. Omega and the Jacksons returned from their own suspensions at Full Gear last weekend.
That last night's antics came less than 24 hours after Omega had asked AEW fans to let go of the drama enhanced it to no end. Kenny told SI on Wednesday:-
"There are things no one can talk about, so I'd encourage people to let it go. It doesn't change that we want a team effort in AEW. I don't even mean implicitly myself and my opponent. It also means the referee, the fans, the people who set up the ring, everyone–even a technical error can ruin the memory of a match. I can refer back to the exploding barbed wire death match. So I encourage people to move away from it because there is no information to be released. Though I cannot talk about it, I do want the fans to know I still want the best for pro wrestling. This isn't Kenny Omega and the Young Bucks against CM Punk. It is people trying to show off their craft. You can boo Kenny Omega, or the Young Bucks, or CM Punk, but I hope people don't forget we're human beings struggling to show our art."
The Elite face Death Triangle in the third match of their series next week. Punk, meanwhile, remains suspended, though he is believed to be in talks with AEW over a potential contract buyout.
Create Content and Get Paid
---