'The Genius' Lanny Poffo Dead At 68
In some tragic news, Lanny Poffo has passed away.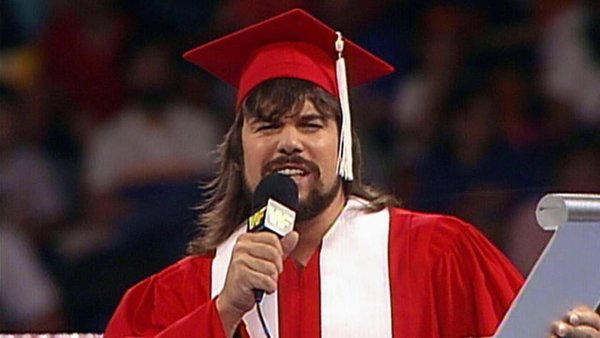 In some tragic news, Lanny Poffo has passed away at the age of 68.
WWE Hall of Famer 'Hacksaw' Jim Duggan took to social media this afternoon to announce this sad news.
With a very, very heavy heart, I've been asked to let everyone know about the passing of our friend and colleague Lanny Poffo, The Genius.

RIP Lanny pic.twitter.com/4ve4J2HSHT

— Hacksaw Jim Duggan (@RealHacksawJim) February 2, 2023
Best known to the majority of fans as the nefarious Genius in the then-World Wrestling Federation as the '90s rolled around, Poffo at that point in time made for a magnificent arrogant heel manager who recited poetry and helped his clients win by any means necessary.
Away from the Genius moniker, Lanny made his in-ring bow back in 1974, initially honing his craft in NWA affiliate promotions. It was in 1979 that Poffo joined his legendary father Angelo's burgeoning ICW, where he would become the company's World Champion and team with/feud with his brother Randy; a talent who would later become 'Macho Man' Randy Savage.
As Vince McMahon's WWF hoovered up talent as part of its expansion in the mid-'80s, Lanny signed with McMahon's organisation in 1985 as the babyface 'Leaping' Lanny Poffo. Those first few years with the WWF saw Poffo write poems on a frisbee and throw that out into the crowd - with said poem deriding the heel who Lanny found himself up against on any given night.
By the second half of 1989, 'Leaping' Lanny Poffo was replaced by the villainous Genius. While Lanny would still lace up his boots to compete, he would primarily serve as the manager for Mr. Perfect and later the Beverly Brothers throughout the early '90s. Like many established WWF acts, Lanny would sign with WCW in 1995, though he bizarrely wouldn't be used by the company during his five-year tenure with Ted Turner's promotion.
2015 would see Lanny Poffo return to WWE to induct his brother Randy into the the company's Hall of Fame.
All of us here at WhatCulture Wrestling would like to express our deepest condolences to the family, friends and fans of Lanny Poffo. May he rest in pest.
Create Content and Get Paid
---