The Great Khali Joins WWE Hall Of Fame Class Of 2021
Khali will be inducted alongside Molly Holly, Eric Bischoff, and Rob Van Dam on 6 April.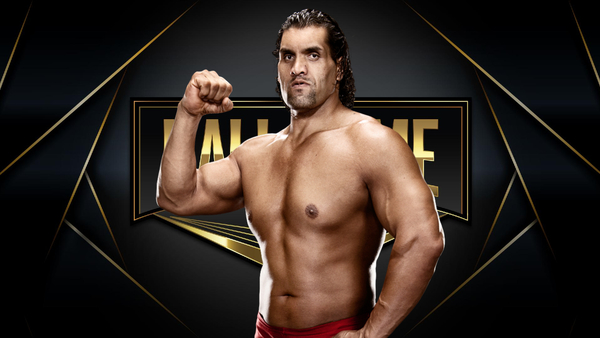 The Great Khali has been confirmed as the latest addition to the WWE Hall of Fame's Class of 2021.
The 7'1" giant's induction was confirmed on WWE Now India earlier today, with the relevant clip uploaded to Instagram.
Khali's friend and former manager, Ranjin Singh, seemingly broke the news to him via video call, with the footage shown in the link above. The big man kept his comments on the induction simple, thanking those who nominated him.
A full-time WWE wrestler between 2006 and 2014, Khali entered the company as one of its tallest ever wrestlers and was immediately pushed as a big deal. Debuting by attacking The Undertaker, he embarked on a lengthy undefeated streak that brought wins over Undertaker, Rey Mysterio, and more, not losing until he and 'The Deadman' worked a Last Man Standing match at SummerSlam 2006.
Khali reigned as a controversial World Heavyweight Champion for 61 days in 2007, grabbing the strap in a 20-man SmackDown battle royal before dropping it to Batista in a Triple Threat also featuring Mysterio at that year's Unforgiven. He was de-pushed in his later WWE years, drifting out of the spotlight in his increasingly sporadic appearances, before he left in November 2014.
Khali's last appearance came in the Greatest Royal Rumble match in 2018. Beyond the ring, he has served as a valuable WWE ambassador in his native India, where he remains a big star.
Joining Khali in the Class of 2021 are Eric Bischoff, Molly Holly, and Rob Van Dam. The pretaped ceremony hits WWE Network on Tuesday 5 April.