The Lesson WWE BADLY Needs To Learn From The NJPW G1 Climax
The best pro wrestling on the planet. Period.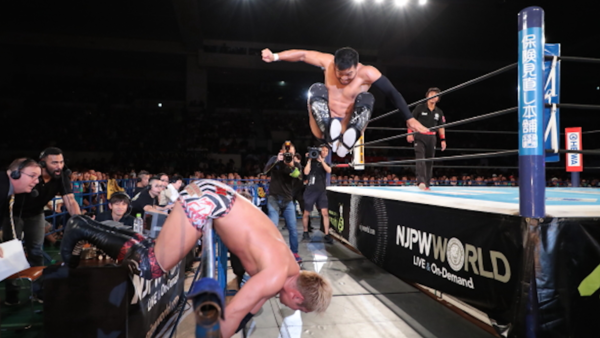 We are over the halfway line of this year's G1 Climax tournament—and nobody has a godd*mn clue who's going to win.
IWGP Heavyweight Champion Kazuchika Okada leads the A block with 10 points accrued through his undefeated five match run. This is unusual, which is where the intrigue lies. The mere inclusion of the Champion in the G1 frames it as an achievement in itself—and not merely the vehicle with which to headline the Tokyo Dome. The tournament also doubles as a means of setting up the challengers throughout the remaining calendar year. It's such a neat narrative device that it has become a trope. But not this year: the unprecedented idea of Kazuchika Okada selecting his challenger is far from remote.
The debuting KENTA was instantly presented as a serious proposition. He didn't merely destroy Kota Ibushi and Ace Hiroshi Tanahashi; he did so with a real !*$% disposition. This version of KENTA is a complete !*$% who revels in his perception as persona non grata; the idea of him winning is as viable as it is concerning for the New Japan diehards. New Japan builds stars as a matter of course; with KENTA, the company has replaced the black sheep heel sh*t-kicker that was Katsuyori Shibata.
Kota Ibushi has racked up enough points (six) to embark on a late surge. Fellow A block standouts Lance Archer and Will Ospreay, meanwhile, have enhanced their reputations by securing major wins and losing classics with painstaking endeavour, respectively.
Over in B Block, Jon Moxley has also racked up the perfect 10, getting over as a cool, charming, totally badass shooter—both expert strategist and incredible showman. He is everything a pro wrestling megastar should be in 2019. He debuted in June; in under two months, the character has significantly more of an aura than he ever had in WWE. That he hasn't yet been defeated is no coincidence.
Gedo has built a headline act overnight.
CONT'D...(1 of 5)