The Miz Had "No Idea" He Was Winning WWE Title At Elimination Chamber 2021 Before Show
He's The Miz, and he had no idea what he was doing until a few hours before WWE Elimination Chamber.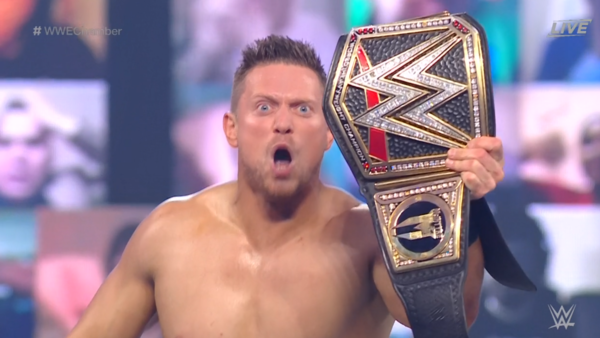 The Miz had "no idea' he'd be cashing-in his Money in the Bank contract on WWE Champion Drew McIntyre until just a few hours before Elimination Chamber, the new title holder revealed during the latest episode of Renee Paquette's Oral Sessions podcast.
It's fair to say very few fans were expecting to see The Miz walk out of last Sunday's event holding the most prestigious prize in the company. But, it's now become apparent that the star himself was also completely in the dark about the impending shock until only a couple of hours before showtime.
During Miz's conversation with Paquette, which also included the wrestler talking about his infamous Talking Smack promo with Daniel Bryan, 'The Awesome One' stated:
"I had no idea. I walked in there (in the afternoon) and nobody was talking to me, like, all the creative, I'm like, 'Is anyone going to tell me what the hell is going on?' Then, I went in and figured out what was going on, and I was like, ok, this is it. Honestly, you never believe it's going to happen. You don't. Until you hear one, two, three, you don't believe it's going to happen."
Whether or not you're fully on-board with the idea of Miz being the current WWE Champion, there's no denying his shocking victory has blown the main event scene on Monday night's wide open so close to the company's biggest show of the year.
The upcoming episode of Raw will see Miz defend the belt against the wrestler who aided him in pulling off his post-Elimination Chamber heist, Bobby Lashley. Drew McIntyre is also set to appear on that show, leaving many fans wondering just what the WWE Championship picture will look like once the three hour show reaches its conclusion.
With six weeks of twists and turns still to go until WrestleMania 37, there's still plenty of time for WWE to put together something truly mouth-watering for the 'Show of Shows'...or completely ruin the whole thing...
Create Content and Get Paid
---