The Real Reason Brock Lesnar Returned To WWE At Hell In A Cell 2018
The Greatest Comeback.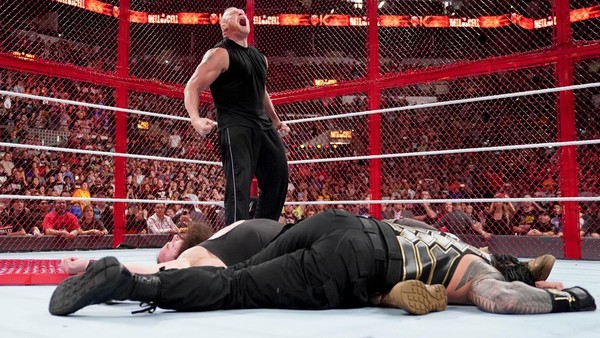 In a shocking moment, Brock Lesnar made his unannounced - and far quicker than expected - return to WWE last night.
Looking, ahem, suspiciously leaner, the Conqueror, complete with his trademark UFC beard, made his presence and Universal Title aspirations known by smashing Braun Strowman and Brock Lesnar with table shrapnel and an F5 apiece. This was apparently cause enough to throw the match out.
"Neither man continue - thanks to Brock Lesnar," Corey Graves claimed on commentary, portraying the Beast - and not the lazy creative team - as the pantomime villain in this overbooked scenario.
This was an absurd development in itself rendered even harder to take seriously given that Reigns and Strowman had spent a preposterous amount of time selling in order to divert the crowd's attention towards the fiddle on the roof. Seconds after Seth Rollins and Dolph Ziggler went tumbling through the announce table - as Michael Cole had it, Rollins crashed and burned it down - Lesnar's music blasted over the PA. A roar rippled throughout the arena, which gave way to sustained chants of "Bullsh*t!" when it became apparent what he was there to do.
Viewers were confronted with several questions following this chaos, not least of which 'What are they thinking?' - but on Wrestling Observer Radio, Dave Meltzer clarified what this means going forward, at least.
"He's wrestling in the Saudi Arabia show that hasn't been announced yet," broke Meltzer. Meltzer also appeared to confirm that we are in for the fifth singles match between the 'Beast' and the 'Big Dog'. "How can it not be on the Network if you're putting Brock Lesnar against Roman Reigns?" he asked, in response to co-host Bryan Alvarez's claim that there are no plans to broadcast the unnamed Saudi special on the streaming service. This doesn't necessarily rule out a Triple Threat match, but this tidbit was quite specific. This development, per Uncle Dave, has been in the pipeline for some time - as was last night's non-finish.
This development does not impact Lesnar's UFC plans.
In addition to the heavily rumoured in-ring return of Shawn Michaels, at least the $20 million oil money per year is delivering genuinely momentous stuff.