The Rock NOT At WWE Survivor Series 2021 - Backstage Reaction Revealed
Concerns over The Rock not showing up at Survivor Series spread to WWE's backstage crew...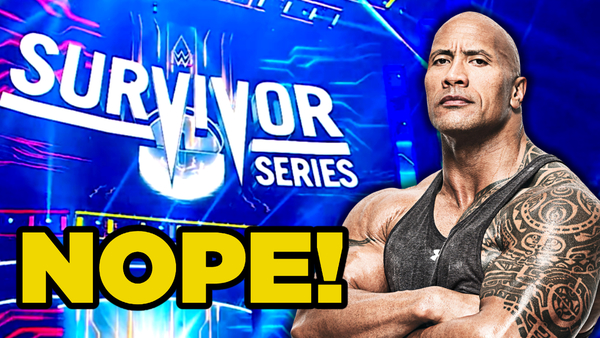 Though he was never advertised or otherwise announced for the show, Dwayne 'The Rock' Johnson not showing up at WWE Survivor Series 2021 last night has become one of the pay-per-view's biggest talking points, likely owing to the volume of content dedicated to the 49-year-old throughout the show.
WWE celebrated the 25th anniversary of Rock's debut at Survivor Series 1996 with a number of video packages. On top of this, Johnson's new Netflix movie, Red Notice, got a heavy promotional push, including the storyline involving Vince McMahon's $100 million golden egg, which will continue on tonight's episode of Raw.
Rock's cousin, Roman Reigns, used a Rock Bottom during his main event with Big E. When that match wrapped, it felt like Survivor Series had one big moment left in the bank. It instead went straight off the air.
Per Fightful Select, WWE staff voiced concerns about Reigns vs. E going last upon learning that Johnson wasn't going to be on the pay-per-view. While there wasn't a major push to change the order, though there was some confusion regarding the lineup, as some runsheets were produced in reverse order, with Charlotte Flair vs. Becky Lynch closing.
This Stephanie Chase tweet sums the situation up:-
If you're ever embarrassed about drunk texting an ex, remember WWE once did a 4 hour long tribute show to The Rock and he didn't show up

— Stephanie Chase (@stephaniemchase) November 22, 2021
Rock, meanwhile, was too busy posting videos from his cheat day to worry about pro wrestling.