The Shield Returns During WWE House Show?!
Seth Rollins formed a new (and temporary) Shield on WWE's recent live event.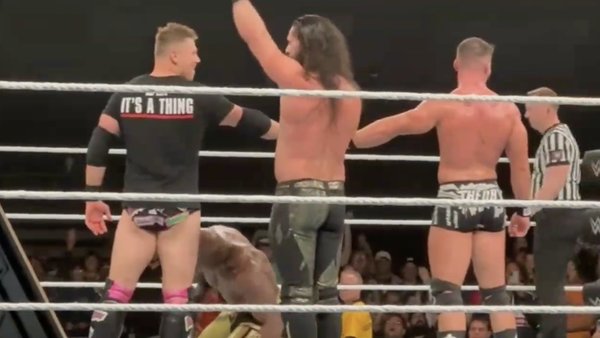 Seth Rollins, The Miz and Austin Theory performed The Shield's trademark fist pose during WWE's live event in Bismarck, North Dakota this past weekend.
'The Shield 2.0' (which is definitely what it'll be called - watch this space) wrestled Bobby Lashley, Dolph Ziggler and Kevin Owens in a 'Street Fight' main event on the house show card. It's worth noting that fans in Bismarck loudly booed the gesture, presumably because of who was involved.
No Roman Reigns or Dean Ambrose/Jon Moxley for you, folks.
Following that taunt, the trio set up for a familiar Shield-esque triple powerbomb on Lashley. Seth even performed Roman's signature, "Oooooooh-aaaaaaah" shout before going for the move, but was interrupted by a Ziggler superkick to break up the fun and games.
Lashley then pinned Theory to give the babyface squad a crowd-pleasing win.
Obviously, this won't really lead to anything on TV. It was just one of those quirky house show moments fans have become accustomed to over the years; Rollins was only having a laugh out there, and both Miz and Theory got to come along for the ride.
Sierra, Hotel, India, Echo, Lima, Delta...SHIELD.