The Undertaker Tombstones Brad Maddox On The Tonight Show With Jimmy Fallon
The Undertaker shocked the crowd on Jimmy Fallon's NBC show.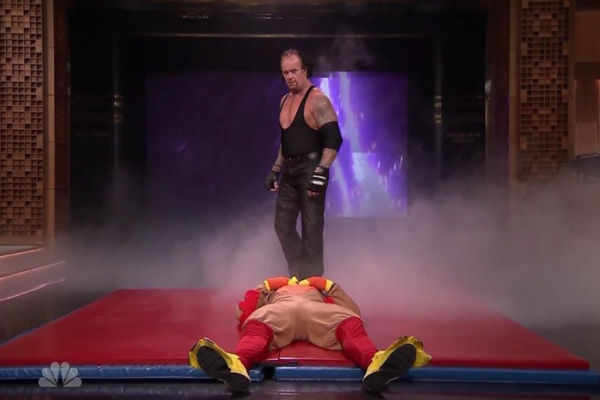 Over his 25 years working for WWE, media appearances have been rare for The Undertaker. Much of this is due to the character that he portrays on television, preventing your typical talk show appearances. On Thursday evening, The Undertaker made a surprise appearance on NBC's The Tonight Show with Jimmy Fallon. He was involved in a segment immediately following Fallon's monologue where the host was reading aloud suggestions put in the show's suggestion box. One of the suggestions asked Fallon to have The Undertaker come out and Tombstone a guy in a turkey outfit. Fallon responded that this request was on too short of notice and he wouldn't even know how to contact The Undertaker. At that point, The Undertaker's theme song came on, the lights went out, and Undertaker walked out on the stage with lightning effects and his full wrestling gear on. Brad Maddox appeared wearing a turkey outfit, and he began to walk around The Undertaker flapping his arms. At that point, The Undertaker gave Maddox the Tombstone on the stage. https://twitter.com/FallonTonight/status/664669491331252224 Fallon then walked out on the stage next to The Undertaker, attempted to shake his hand, but he received a glare in return. As the Tonight Show went to commercial, Fallon hyped up the Survivor Series airing on the WWE Network next Sunday. Considering WWE's home on cable, USA Network, is part of NBC-Universal, it's likely that a favor was called in to help promote WWE's upcoming event.
Create Content and Get Paid
---