The Undertaker PASSES THE TORCH, Shares DARK SECRET With Bray Wyatt At WWE Raw Is XXX
The Undertaker and the man often considered "The Next Undertaker" share an intimate moment on Raw.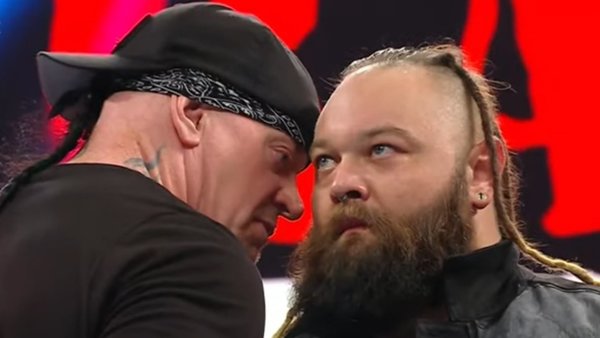 The Undertaker and Bray Wyatt shared a careless whisper on last night's WWE Raw Is XXX.
'The Deadman's never gonna dance again after his ostensible retirement match against AJ Styles at WrestleMania 36, but his guilty feet still had some rhythm last night. They pedalled his motorbike around the ring occupied by Wyatt's opponent LA Knight after the mouthy SmackDown star had called out anybody in the locker room for a fight.
Undertaker answered the call in his "American Bad *ss" persona, Kid Rock strains and all, but as the music died and Knight was eyed, his Rumble opponent Bray Wyatt arrived. Stopping Knight from bailing out, Wyatt led him back to the ring and was offered up the chance to hit a Sister Abigail following a 'Taker chokeslam tease.
Bray didn't waste the chance that he'd been given, and just before Undertaker left, he mysteriously uttered something in his colleague's ear. No clue was offered as to what got said, but to the heart and mind, ignorance is kind
Undertaker and Bray Wyatt have been tethered in the minds of many since Wyatt debuted on the main roster in 2012. At one point, they could have been so good together. They could have lived this dance together. Sadly, some wasteful booking at WrestleMania 31 flushed most of that away across 15 drab minutes. Several years and one segment later, and Wham!, just like that it's back.
Create Content and Get Paid
---