The Undertaker SHOOTS On WWE During Joe Rogan Podcast
Undertaker call's WWE's "soft" product "hard to watch" during Joe Rogan Experience appearance.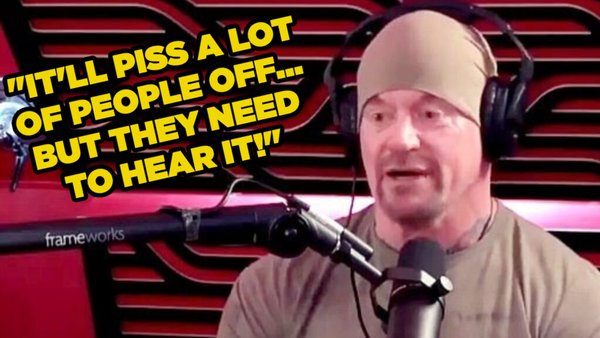 WWE legend The Undertaker wasn't shy of criticising the promotion's current product during yesterday's appearance on The Joe Rogan Experience.
When asked if he still follows WWE and if he enjoys it as a fan, Undertaker said that while he tries to get into the programming, it's tough for him, as the product has "changed so much" and become "kinda soft."
He extrapolated:-
"I'll probably piss a lot of people off, but they need to hear it. It is what it is. To the young guys, 'Oh, he's a bitter old guy'. I'm not bitter. I did my time, I'm good. I walked away when I learned to walk away. I just think the product is a little soft. There's guys here and there that have an edge to them, but there's too much pretty, not enough substance right now. They're trying to put something out for everybody. Some guys are into the comedy s**t, there's other guys that want to see the more hardcore-type fighting. I think one of the biggest things that happened, we all got old at the same time, so there weren't enough guys to work with the young guys."
Undertaker also spoke on wrestlers more focused on listening to the fans than tenured performers like himself and other veterans:-
"You also have too many people that are, 'These guys on the internet say I'm pretty f**king good'. Okay, well you can listen to them or you can listen to somebody that's been there and done it. You can't help it, but there was just not enough merging of the young and the new talent. When we had Stone Cold and Rock and Triple H and Shawn Michaels, all those guys, we were all working together, and we were making money and we were drawing. Then we all just aged out. I hung in there for a long time, but we kinda aged out, and it left all these young guys to learn with more young guys - and the product changed."
While far from the most vicious criticism of the WWE product you'll hear from a former wrestler this year, these words have extra weight coming from the Undertaker. Long considered the ultimate company man, who never spoke out of turn in the media and stayed loyal to the promotion for three decades, 'Taker openly criticising WWE like this is a big deal.
'The Deadman's' JRE appearance saw him echo complaints held by many current and lapsed WWE fans. Whether or not Vince McMahon acts upon them remains to be seen. History suggests he won't, but if the WWE Chairman is going to take advice from any retired wrestler, it'd be 'Taker.
Here's the clip in question:-