The Undertaker Spotted Having A Cheeky Nandos In Scotland
Spice heat: Hellfire and Brimstone.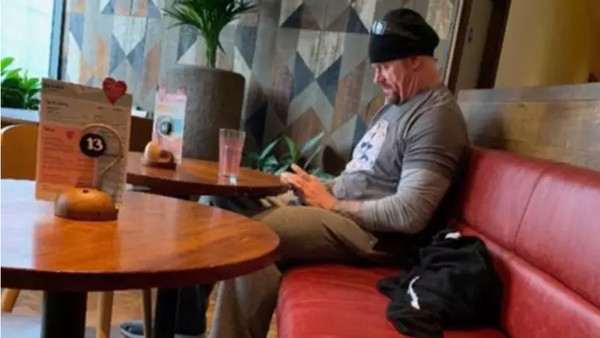 The Undertaker, who for the best part of the last 30 years has worked tirelessly to maintain the illusion of his character, left casual diners in Glasgow agape yesterday when he was spotted in a branch of Nando's enjoying some efficiently served chicken.
'Taker was in Scotland for this week's Comic Con, and apparently not giving a single solitary f*ck anymore, popped into a local Glesge branch of the popular restaurant chain in his scruffs to refuel.
Until very recently, sightings of 'The Deadman' out of character were as infrequent as edifying Seth Rollins Tweets. Is he perhaps a little down on his luck after not being drafted to either Raw or SmackDown?
Hardly: 'Mean' Mark is charging £500 a pop for meet and greets at the upcoming convention. Seems a bit steep when attendees could have met him for nowt in Nando's.
The Undertaker's last WWE match came at this year's Extreme Rules, where he teamed with Roman Reigns to defeat Shane McMahon and Drew McIntyre. He had been scheduled to appear on SmackDown's FOX debut, but the company told him he wasn't needed on the day.
It's not known what 'Taker ordered in Nando's, or the level of spice on his chicken.
Create Content and Get Paid
---