The Undertaker's Potential Teammates For WWE Survivor Series 2015 - Ranked
Who will we see in The Deadman's corner?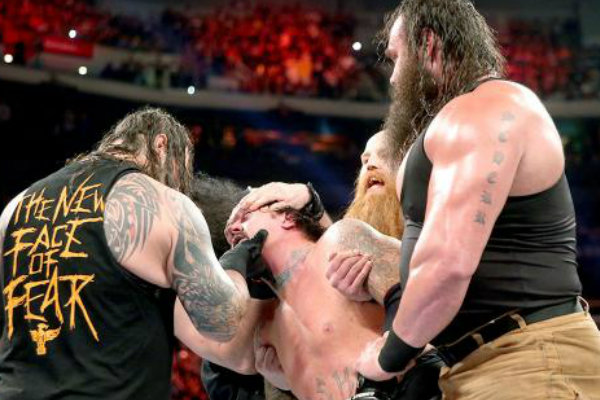 Now that it appears we€™re heading toward a clash between The Wyatt Family and The Undertaker for Survivor Series, it€™s time to begin speculation on who his partners may be. This year€™s event will be built around The Undertaker, with it being the 25th anniversary of his debut in the promotion, so WWE will be going all out in tribute to his contributions. There€™s currently a rumor floating around that Braun Strowman is penciled in as Taker€™s opponent for WrestleMania 32, so logically the build for that match would begin at the Series, culminating at the big blow off in Dallas. As of right now the fans don€™t seem too sold on this idea so hopefully Strowman makes some improvements in his work between now and then. Team Wyatt is obviously already set with Bray, Luke Harper, Erick Rowan and Strowman representing, but it€™ll be interesting to see who stands beside The Deaman to wage war with the new face of fear and his clan...
10. Brock Lesnar
Now that the two behemoths have laid their issues to rest, is it possible we could see them on the same side at Survivor Series? Prior to tangling with The Undertaker, Brock was a babyface, although he transcends typical wrestling character alignments. But the fans want to cheer for him, so now that he€™s no longer feuding with one of the most respected legend sin the business expect him to be on the receiving end of cheers no matter who he faces. Seeing Lesnar lock horns with the mountains in the Wyatt Family would be fun and something we haven€™t seen before, and WWE could always go the mutual respect route with he and Taker. They€™ve been at each other€™s throats for so long they decided to team up, with Brock volunteering to step in as his partner. This one has very little chance of happening, and there are even reports that Brock Lesnar won€™t be back on TV until the first of the year. Still, it would add some much-needed star power to the event and give us a take on the traditional SS match we never thought we€™d see.