The Wyatt Family Reunites - Teases New Faction?
From the Wyatt Family to the Four Horsemen of the Apocalypse...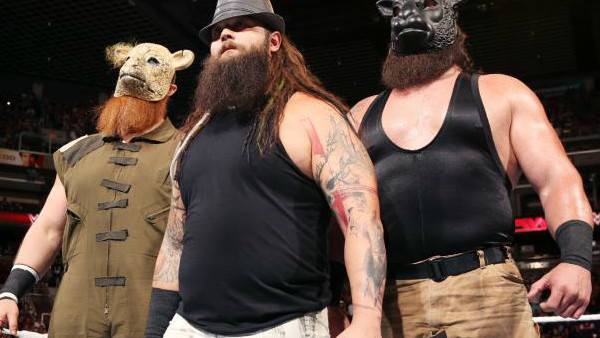 Taking to Twitter, Adam Scherr, aka Braun Strowman, shared a photo of himself alongside his former Wyatt Family buddies Windham Rotunda and Erick Redbeard.
Not just was this a reunion of sorts for the trio, some are seeing this image as a possible tease of a new faction for the trio. With the three's four fingers extended downwards, Scherr's post labelled the group the Four Horsemen of the Apocalypse - and he also included a mention of the late, great Mr. Brodie Lee in his tweet.
War DeathFamine Pestilence

Forever the Four Horsemen of the apocalypse!!!!! 4Brodie #TheFamily#BrayWyatt#LukeHarper#ErickRowan#BraunStrowman pic.twitter.com/Bruk2TGZMr

— Adam Scherr (@Adamscherr99) April 23, 2022
Of course, it remains to be seen whether the Four Horsemen of the Apocalypse formally becomes a 'thing' in the pro wrestling industry, or whether this was merely just Scherr, Rotunda and Redbeard getting together at this weekend's For the Love of Wrestling convention and taking a fun photo.
In terms of their wrestling futures, the Monster Among Men is one of the key figures in the burgeoning Control Your Narrative group, Erick Redbeard is active on the independent scene and has made a couple of appearances for AEW, and the former Bray Wyatt has steered clear of the squared circle since departing WWE last July.