THIS Is Kenny Omega's Favourite Wrestling Match
It is a work of Genius, to be fair.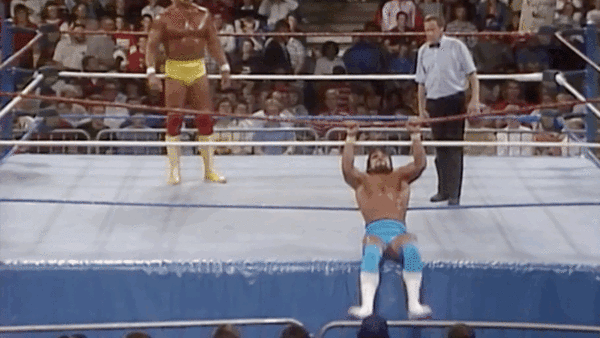 On last night's Being The Elite, as the Young Bucks caught up with Lanny Poffo backstage at Dynamite, Nick Jackson revealed to the Memphis legend that he made up one half of their stablemate Kenny Omega's favourite ever match: The Genius Vs. Hulk Hogan from Saturday Night's Main Event. It seemed a strange choice, given how seminal a worker Omega is, which made for a quality punchline.
But watching it back, it makes a terrific amount of sense.
Omega is a huge proponent and superb practitioner of comedy wrestling, and the match is a complete hoot. The Genius spends a great deal of it acrobatically flexing for absolutely zero discernible purpose, as, all the while, Hogan is mystified. It's beyond absurd, but the Genius does in fact have a strategy. He powders to the outside and, as he was wont to do, grabs his clipboard and jots down the formula for victory, incorporating Hogan's weight, height, and the words 'HULK DOWN'.
Genius showboats having done nothing to warrant it but exist. The premise is as priceless as his hysterically affected execution, and he even busts out a moonsault at one point having recovered from a series of genuinely unhinged bumps to the outside. Funny, dangerous, and unashamedly exaggerated, it seemed to influence as much as entertain the Cleaner.
Omega may watch it - he purportedly does so once a month - with even more of a wry smile in 2020, for the biggest star in the world did the job for an enhancement talent in a comedy match that didn't harm his aura at all ahead of the smash-success WrestleMania VI.
How Twitter would have buried Hogan for not presenting himself as a star in 1989.