THIS WWE Hall Of Famer Apologises To The Rock For 2002 Behaviour
"Sorry I was such a d**k to you."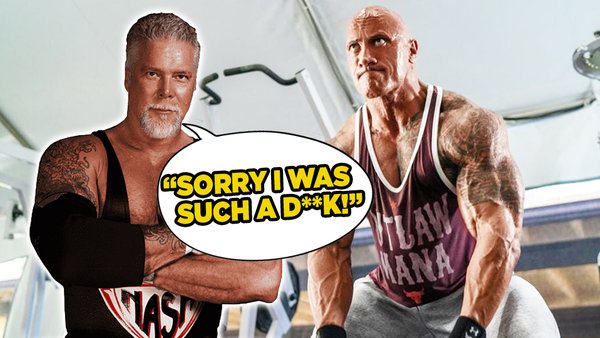 Taking to Twitter, Kevin Nash has apologised to The Rock for being a "d**k" to him during Big Sexy's WWE return in 2002.
Ahead of an appearance at Indiana Comic Con, Nash shouted at The Rock for his footwear, which caused The Great One to respond and praise Big Kev for the ridiculous shape he's in. From there, the nWo founder gave props to Rocky for his own work ethic and apologised for his 2002 behaviour.
The love-in didn't stop there, with The Rock talking about how pumped he was to have Nash, Scott Hall and Hulk Hogan return to Vince McMahon's sports entertainment giant in '02 ahead of WrestleMania X8. At that edition of the Showcase of the Immortals, Rock famously battled Hogan, whilst Nash was in Hall's corner as the former Razor Ramon took on Steve Austin.
You're an inspiration my brother 👏🏾💪🏾In tremendous shape!!! Holy s**t. Way to raise the bar!

— Dwayne Johnson (@TheRock) October 16, 2021
Following your lead. You're work ethic is amazing. You're filming schedule would kill most mortals but the promotion for your films is the grind. You film and promote at the same time. Sorry I was such a dick to you when I came back in 2002. Just trying to keep my spot.

— Kevin Nash (@RealKevinNash) October 16, 2021
Never a need for any apology big brother, but thank you very cool of you. You guys had to come back with some bite & venom. I was living in the house you helped build, so I was pumped you, Scott & Hulk were coming back cause #1) I was always a fan and #2) most importantly..

— Dwayne Johnson (@TheRock) October 17, 2021
I wanted us all to link up and make a lot of 💰(for us and the whole roster). WM18 was huge and a career highlight for me. As was our big Mania buildup when we had a chance to have fun and rumble. It was a great time in our business! Wish we could've worked more! NWO4L 🥃

— Dwayne Johnson (@TheRock) October 17, 2021
Just two good dudes being good dudes and appreciating each other. In a world where so often shots are taken and grudges linger long, it's nice to see two veterans of the business sharing some kind words with one another.
In terms of match-ups, The Rock and Kevin Nash were involved in five matches together before and after 'Mania X8, although four of those were tag bouts. Their one singles contest took place on the 19 March 2002 SmackDown, where The People's Champ picked up the DQ victory.
Create Content and Get Paid
---