This WWE Legend Has FORGOTTEN He Ever Worked Hell In A Cell
Imagine forgetting that you've been inside Hell In A Cell - this WWE icon has!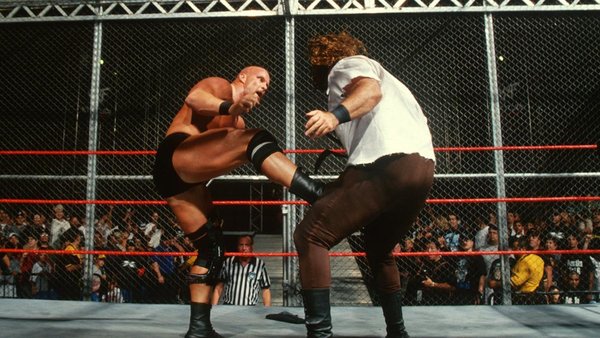 Steve Austin has appeared in two Hell In A Matches, but he can't remember either of them.
'Stone Cold' recently hosted a sit-down interview with Sasha Banks for his 'Broken Skull Sessions' show on WWE Network. During the chat, Austin showed footage of Banks' HIAC encounter with Bayley from October 2020 and weirdly offered, 'I've never been in one of those' when asking Sasha what working the cage was like.
That's simply not true.
Austin teamed with The Undertaker to beat Mankind and Kane inside HIAC on the 15 June 1998 episode of Raw. A little over two years later, he was part of a busy six-man Cell bout at the Armageddon 2000 pay-per-view.
Apparently, he doesn't count them amongst his fondest in-ring memories. Banks didn't correct her hero on the Network - to be fair, that's not her place. Someone on the sidelines (a producer, director etc) should've corrected the legend and reminded him that he has been inside the Cell.
More than once.
This wasn't a bad look for the interview by any means, but it would've stuck out to longtime hardcore fans who followed Austin's career closely.
Create Content and Get Paid
---