This WWE Match Was The Most "Nervous" Roman Reigns Has Ever Been
Roman Reigns didn't have a lot of time to plan this nervy WWE hidden gem.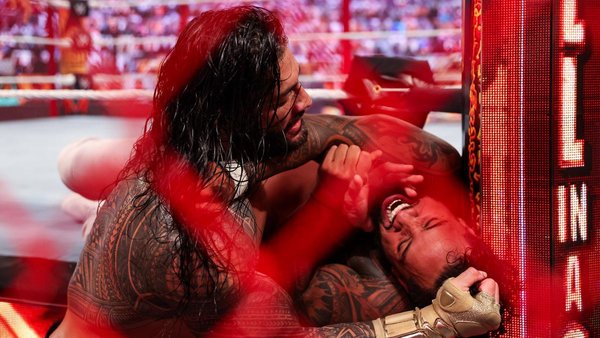 Roman Reigns has said he's never been more "nervous" than he was for his clash with cousin Jey Uso at WWE's Hell In A Cell 2020.
The current Undisputed WWE Universal Champion told 'The Ringer' that he didn't get a ton of time to sit down and prep the bout with Jey beforehand. So, on reflection, he's super-proud of what they were able to achieve together.
In a cool moment that shows just how high his standards are, Roman also said he was unwilling to come down a notch if Uso wasn't able to hang at a main event level. If Jey struggled, then that was on him - Reigns wasn't going to make concessions on his performance just because he was in there with family.
That leadership trait worked out well, because Jey was able to show he belonged in the upper echelons and the pair had an awesome match. It's one Roman looks back on fondly, but he recalls being incredibly nervy before heading through the curtain.
The 'Tribal Chief' closed by saying the duo's "brother-level connection" made things a little easier than they might've been otherwise.
Create Content and Get Paid
---