Toni Storm Shoots On State Of AEW Women's Division
Here's what Toni Storm thinks of AEW's female ranks, and where the division is going.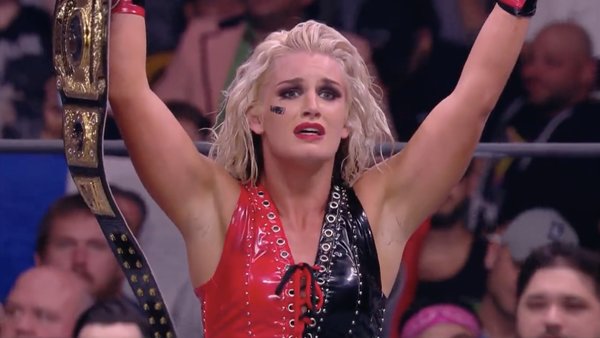 Toni Storm thinks the AEW women's division is "heading in the right direction".
Storm, who retained her interim Women's Title on Wednesday's 'Grand Slam' episode of Dynamite, told TV Insider that her ultimate goal is to give her peers as much television time as the men. She acknowledged that this hasn't been the case in AEW, but called that "a story as old as time".
It's a wider issue in the pro wrestling biz, Toni says.
Storm is much happier in All Elite than she was when working for WWE though - the interim champ said Khan's company has "a really good atmosphere" backstage generally, and everyone on the women's side feels "really proud to be there".
The next step? Get even more TV minutes and push for top-tier programs that get featured in main event spots on Dynamite, Rampage and pay-per-view. That, Storm reckons, will "change the entire game" and show that AEW's women managed to "overcome" some major hurdles.
"Consistency" is key, but she's been positive about what's achievable since walking through AEW's doors for the first time. Toni is "confident" that the division will blow up soon.
Create Content and Get Paid
---