Tony Khan CONFIRMS William Regal's AEW Release & WWE Return
AEW head confirms Regal's departure, restrictions upon rejoining WWE.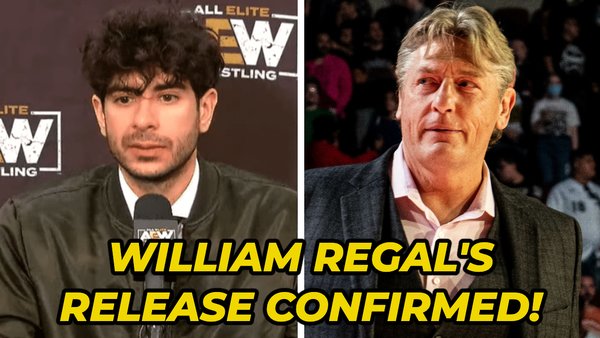 Speculation about William Regal's AEW status has dominated wrestling chatter for the past several days, but Tony Khan himself put an end to that on Wednesday during the Ring of Honor Final Battle media call.
Fightful reports that Khan told media that Regal will indeed be leaving AEW at the end of the year after the Blackpool Combat Club founder asked the company not to pick up his contract option. Khan said he learned about this request about two months ago, with Regal wanting to return to WWE to be closer to his son, Charlie Dempsey, who is currently in NXT.
Said Khan:
I got a phone call saying William Regal had approached [Chief Legal Officer] Megha (Parekh) and said, it was all very legitimate and valid stuff, basically, he has a son who works in another wrestling promotion [WWE] and he really wanted us, at the end of the year when we had the option to renew his contract, he was asking that we would not. Nothing bad. We were having a great time working together, but this is an opportunity for him to go back and work in these golden years of his career with his son and do things that he likes to do, coaching, and he has friends that he would like to go back and coach with. It's a very complex situation for AEW because he's a huge part of what we're doing on-screen and we really value him.
Khan said it "made a lot of sense to me why he would want to work his son and be with his son," adding that after he talked to Regal, Khan told His Lordship that he would make "major sacrifices" to AEW to reunite the Regal family "because this is a family-first company."
As part of his impending release, Regal will only be able to participate in a backstage capacity and not be allowed to appear as an onscreen character for a year following his AEW release.
WWE released Regal, who was both an onscreen and off-screen presence in NXT for years, in January. He debuted in AEW in March at AEW Revolution, where he united Jon Moxley and Bryan Danielson to form the Blackpool Combat Club. Regal effectively was written out on last week's Dynamite when Maxwell Jacob Friedman blindsided Regal with brass knuckles.
(h/t to Fightful.com for the transcription)