Tony Khan Provides Updates On Jeff Hardy, Wellness Policy, And Forbidden Door II
Tony Khan went into detail on a number of interesting topics during his most recent conference call.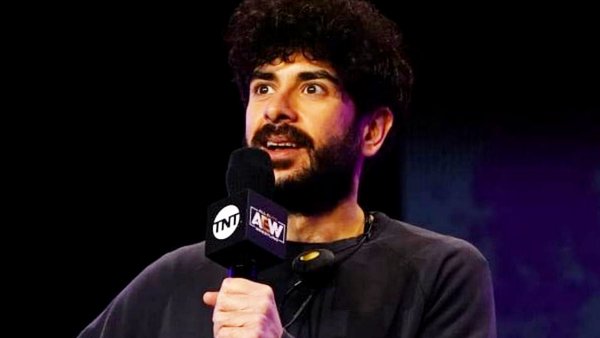 Tony Khan dived into a number of topics during his conference call yesterday promoting the incoming AEW X NJPW Forbidden Door PPV.
Among the many subjects covered in this typically extensive conversation with the press, the AEW President would note how the impressive ticket sales for this Sunday's first-ever AEW/NJPW supershow have already led to talks over a potential Forbidden Door II.
Khan would also salute the depth of his current roster, explaining how his ever-growing talent pool has aided him immensely whenever talent suddenly go down injured - something the company have been forced to deal with more than ever over the last weeks. And keeping with the improvisation brought on by a wrestler suddenly being struck down by injury, Khan very much hyped up the size of surprise heading fans' way in the form of Bryan Danielson's Zack Sabre Jr. match replacement (h/t WrestlingInc):
"I think there's going to be a lot of great moments to expect on the show, but one thing I know is this great moment, when we introduce Zack Sabre Jr's mystery opponent. I'm really excited about it and I wish it had happened under different circumstances."
Elsewhere, Khan was nudged on the subject of Jeff Hardy following the veteran's recent DUI arrest and eventual suspension from AEW that can only be ended on the back of him receiving treatment and proving his sobriety. As Khan would explain when unpacking people comparing Hardy's situation to Jon Moxley's recent struggles:
"I'm really glad nobody got hurt. But what Jeff did going out and driving is different from the other thing. And I just don't like hearing them the two compared, if that makes sense. I feel like I'd be remiss if I didn't give Jeff a lot of credit for now doing the right thing. And this is what we said — Jeff's got to do the right thing if he wants to stay with AEW. Because it's his last chance."
Sticking with the care and help afforded to his talent, Khan would also reveal what the company has in place when it comes to an overall wellness policy:
"We're here for anybody that steps up and wants to get help, and hopefully they'll come to us instead of it being under circumstances where they get themselves in trouble," Khan said. "But the most important thing is they get the help, and I'm here to stand by anybody who that needs help and will get it. It's available to anybody here. Anybody who needs time off, if they have an issue, they can take it, no matter how big of a star they are."
"They can be the most important person in the company in terms of drawing revenue, or somebody who isn't on TV as much and isn't drawing as much revenue, it doesn't matter. It's the same quality of first-class treatment if they need it. As far as everything else, we do have a policy in place about making sure people come in and show up to work in the condition to work. That's the most important thing. There's a testing policy."
For more information on how to take in the first-ever AEW X NJPW Forbidden Door event on FITE follow this link and get your hands on a 20% discount when you subscribe to AEW+.