Top IMPACT Star Would "Love" To Have MMA Fights
Could we see this IMPACT Wrestling star enter the Octagon at some point?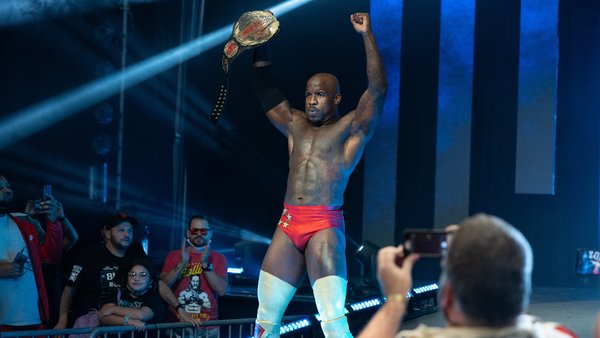 Current IMPACT World Champion Moose has made it known that he'd "love" to have a couple of MMA fights.
Not content with six years in the NFL and a ten-year pro wrestling career so far, the real-life Quinn Ojinnaka spoke to Jim Varsallone of the Miami Herald (via POST Wrestling) about how he'd be open to trying his hand at MMA.
As Moose explained:
"Actually, before I started to become a professional wrestling, I had a good... I'm good buddies with a guy called Frank Trigg, and I told him that I think I could fight MMA and he talked me out of it quick because I used to roll around with him. I'm one of those guys where I have the mindset where I wanna do something once, and I still have that mindset. I would love to have one or two MMA fights just to say that I did it, you know what I'm saying? And I'm one of those guys, like, if I have an MMA fight and I actually win, it makes me even more of a badass in professional wrestling, right? So, it's one of those things that I do wanna do maybe just one time, hopefully I win, just to help my wrestling career."
Moose would reiterate how MMA is something that he wouldn't want to do long-term, and he cited CM Punk's UFC deal as an ideal example of giving him the opportunity to have a couple of fights.
In terms of pro wrestling, Moose made his debut in 2012. He'd make a strong impression in Ring of Honor a couple of years later, during which time he'd also compete for New Japan Pro Wrestling. The 6'5" powerhouse would sign for TNA/IMPACT in 2016, and he has only gone from strength to strength in the years since - with him becoming IMPACT World Champion last October at the company's annual Bound for Glory PPV.
At Bound for Glory, Moose won the Call Your Shot Gauntlet bout which gave the winner a guaranteed title shot at a time and place of their choosing. Ever the opportunist, the Wrestling God cashed in his shot later that night on a Josh Alexander who had only moments earlier dethroned Christian Cage to become the IMPACT World Champion. Unfortunately for the Walking Weapon, that title reign was extremely short-lived.
Create Content and Get Paid
---