Top WWE Star Brands Bray Wyatt's Character "Difficult" To Work With
WWE star offers earnest criticism of Bray Wyatt's "difficult" 'Fiend' character.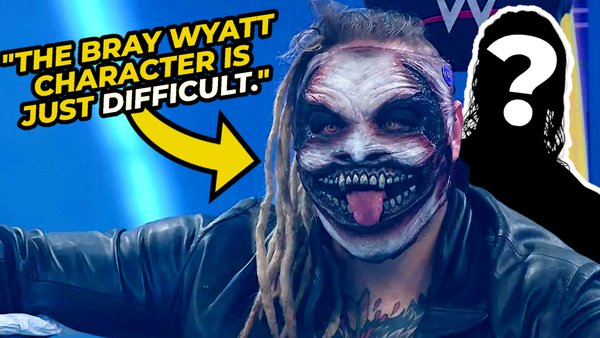 With Bray Wyatt's hotly-anticipated WWE comeback seemingly on the horizon, Seth Rollins has unpacked the difficulties of working with the former Universal Champion's 'Fiend' character, doing so in an interview with Ariel Helwani for BT Sport.
Rollins, who tangled with Wyatt heavily during Bray's original WWE run, said he'd like to face the current free agent again. Nonetheless, the Raw man believes Wyatt's character is "just difficult." With Randy Orton and Daniel Bryan as exceptions, Rollins believes that those who worked with Bray typically didn't come out stronger than when they went in, including himself.
Said Seth (h/t Fightful):-
"Yeah, I mean, another crack at that one might be nice. I mean, look, the Bray Wyatt character is just difficult. If you look at anybody that worked the Bray Wyatt character for an extended period of time They didn't, they didn't come out of it better than they went in. It was very difficult to have a story with him where — aside from Randy [Orton], who obviously killed him, it was difficult for anyone. I think maybe Daniel Bryan Bryan might have escaped a little unscathed. But I mean, everyone else pretty much met a dire end for their character. I mean, that was the end for the Seth Rollins character as you knew it, 'The Beast Slayer' character. It was tough figuring out how to tell a good wrestling story with that character."
Wyatt and Rollins last feuded in late 2019 heading into early 2020. This included their poorly-received match at Hell In A Cell 2019, which was marred by a multitude of issues including hammy acting, red lighting that hampered the live experience, and the contrivance of using a referee's stoppage finish in a HIAC bout.
Later, 'The Fiend' defeated Rollins to become Universal Champion at Crown Jewel 2020.
The feud was demonstrably damaging to Seth's babyface character, with his already-waning popularity diminished to the point that he was effectively forced to turn heel in 2020. This, fortunately, helped yield his current run, which is widely regarded as one of his career's most profitable.
Continuing, Rollins told Helwani about the issues he had working with a supernatural gimmick like 'The Fiend'. Seth felt that their Hell In A Cell bout would have resonated better had it been more of a squash, though he and Bray ran into problems with then-WWE Chairman and CEO Vince McMahon, who was also head of creative at the time:-
"I just wasn't good at it. That was one thing I was not I was not good at the phenomenology stuff. I wasn't able to interweave that with reality enough to make what I felt was a captivating story. At the end of the day, it probably would have been better if he just mauled me in that cell, put the claw on me, and call it a day, you know? I could have moved on to something else and he could have had his run as champion. But, that wasn't the case and we played the hand we were dealt, and that was not our call. I know, he would tell you the same thing. That was — that did not go the way we wanted it to. We tried, and we tried, and we tried, and the boss at the time would not budge. So we ended up — like I said before, it's just not our sandbox. We are actors on a stage sometimes and we read the lines. So that was one of those nights where we didn't have the liberty to ad lib. We didn't have the liberty to take things into our own hands."
But despite all this, Rollins considers the man behind Bray Wyatt an "incredible talent." He would love the opportunity to work with him again should the opportunity materialise:-
"I would love to have another crack at working with Windham Rotunda. He's an incredible talent. [He has] a mind for the industry, stories, and for characters that is very unique. There are not a lot of people in our business, past, present, or future that think about things on the level that he does. I would love to have another crack at working with him. Because I think we could do something extremely special. Whether that's with 'The Fiend' character or not, who knows? He's a master at reinventing himself. So if he does — if our paths cross, and he does find his way back here, I would definitely love to have another go-around. I think we definitely — there's certainly magic to be made there. In what capacity? I don't know."
While nothing is confirmed, Wyatt is believed to be behind the recent 'White Rabbit' teases on WWE programming, which are expected to come to a head at Extreme Rules 2022 this Saturday (8 October). Bray has been out of wrestling since his shocking WWE release in July 2021.
Create Content and Get Paid
---