Triple H Rips WWE NXT's "Imaginary War" With AEW Dynamite
In which Triple H asks you to pretend those 18 months of counter-programming never happened.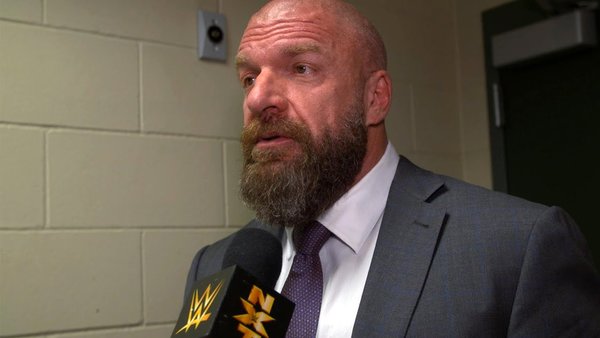 Triple H cited the lack of an "imaginary war" with AEW Dynamite as one of the key reasons why WWE NXT's move to Tuesday nights is better for the brand.
Speaking during a recent appearance on the Cheap Heat podcast, the WWE EVP added that WWE isn't just in competition with other television products, but the wider content world (h/t Wrestling Observer/Figure Four Online for the transcription):-
"The promotional opportunity for us is much better on a Tuesday. And also then not having to have a narrative where it's just constantly about an imaginary war, or this imaginary battle. And, you know, people can say what they want, but the truth of the matter is you compete against everything. If you are creating a television product or content-- that is the world we live in is content not television, not internet. It's everything. So you're constantly competing for eyeballs and time against everything under the sun, including sleep and time to do other things, and video games, and Tik Tok and everything else that's out there."
"Imaginary" is an interesting choice of word, given WWE started said war by moving NXT onto USA Network after Dynamite was announced for TNT and generally counter-programmed every strong-looking AEW show with hot-shotted matches.
Also, this:-
WWE statement: Congratulations to AEW on a successful premiere. The real winners of last night's head-to-head telecasts of NXT on USA Network & AEW on TNT are the fans, who can expect Wednesday nights to be a competitive & wild ride as this is a marathon, not a one-night sprint.

— Ryan Satin (@ryansatin) October 3, 2019
Regardless, the Wednesday Night Wars' end has already proven fruitful for both shows, with AEW Dynamite hitting 1.219 million viewers for its first competition-less episode and NXT improving to 841,000 for its second.
Create Content and Get Paid
---