Update On Natalya's Injury Status After WWE Raw
New details on Natalya, who was hurt while wrestling Doudrop and Eva Marie on Raw.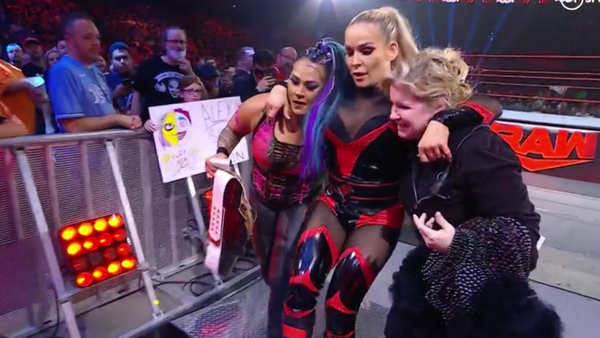 As covered earlier, Natalya ran into problems while teaming with Tamina to face Eva Marie and Doudrop on last night's episode of WWE Raw. Rendered unable to continue after an apparent leg injury, she tagged out of the match and left the remaining wrestlers to fast-forward to the finish, then required help to make it up the ramp after the bell.
Dave Meltzer delivered an update on today's Wrestling Observer Radio, stating that Natalya was hurt as Doudrop cradled her for an attempted pin.
While it wasn't clearly visible on television, Natalya's ankle twisted beneath her in an ugly way, with her pain obvious after she had kicked out and attempted to wrestle on. The reigning Women's Tag Team Champion tagged out a few moments later.
The severity of Natalya's injury remains unknown, as is the question of whether or not she'll require surgery. Meltzer speculated, however, that if it wasn't a serious situation, Natalya would have likely walked up the ramp on her own.
Natalya and Tamina vs. Eva Marie and Doudrop was a contendership match guaranteeing the would-be challengers a title shot if they were victorious. An Alexa Bliss/Lilly-assisted distraction ensured they were not.
Create Content and Get Paid
---