Updated WWE Plans For The Usos Revealed
Triple H has a very deliberate plan in mind for The Usos dual Raw/SmackDown Tag Title reigns.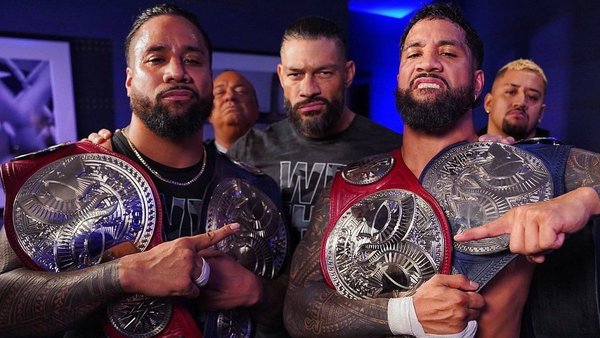 Triple H is interested in splitting the Raw and SmackDown Tag-Team Titles up again.
The Wrestling Observer is reporting that WWE's current plan is to keep one set on The Usos but stick the other on another team. Judgment Day have been clearly presented as number one contenders for the Raw belts, and there's an ongoing tournament over on the SmackDown side to establish new challengers for those straps too.
Dave Meltzer claims this is part of a concerted effort from Trips to keep fans guessing about exactly which set of belts Jimmy and Jey will lose; a Raw or SmackDown Tag Title loss could also play into the ongoing tension ripping through The Bloodline ranks.
Keep an eye on what Sami Zayn is doing, basically, because he'll probably be involved in this somehow.
If Judgment Day don't take the Raw belts, then the Drew McIntyre and Sheamus combo (which is almost guaranteed to win WWE's tourney) will take the SmackDown ones. Triple H wants to move away from the Undisputed branding for both sets of straps before WrestleMania 39.
At least one title change is incoming then.