Vince McMahon Said WWE Fans Would "Vomit All Over" THIS Paul Heyman Idea
One of Paul Heyman's best WWE ideas was "terrible", according to Vince McMahon.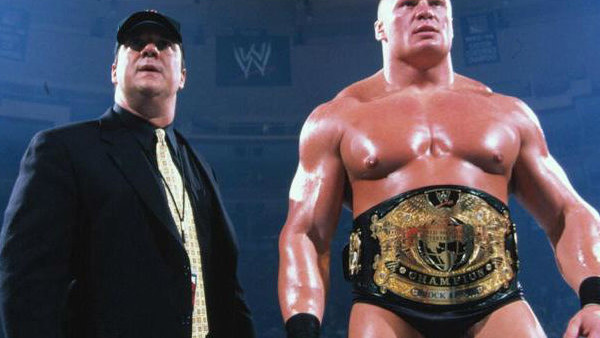 Paul Heyman has revealed that Vince McMahon originally hated the idea of calling Brock Lesnar WWE's "Next Big Thing".
The manager extraordinaire told Tetragrammaton that Vince outright called the nickname "terrible", and asked: "Why would you call him that?!" during creative meetings in 2002. Heyman stayed his course though, and was eventually backed up by everyone from Jim Ross to others on the writing staff.
They agreed that "Next Big Thing" was catchy, but Vince didn't get it.
McMahon actually told Paul that company fans would "vomit all over" his idea if it made air on programming like Raw and SmackDown. Lovely! To his credit, Heyman kept plugging away and convinced his boss to give Brock's moniker a go.
The results would speak for themselves.
Of course, Lesnar couldn't be called the "Next Big Thing" forever. He had to move on from that nickname at some point, which Heyman knew, but he thought it'd be a quite excellent starting point for WWE's latest pet project.
JR must've loved it, because he scribbled the name down on his notes, and other announcers like Michael Cole screamed "Next Big Thing" on TV.