What Happened When Karrion Kross Complained About Bad WWE Creative?
Here's what Killer Kross was told after raising concerns over his WWE direction...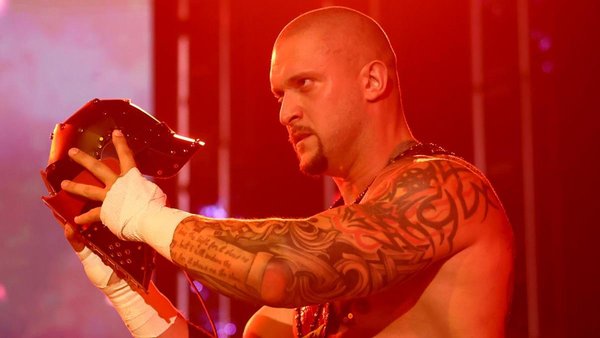 The former Karrion Kross appeared on a recent episode of Busted Open Radio, discussing all kinds of topics relating to his professional wrestling career - including how he handled his poorly-regarded creative direction after transitioning to WWE's main roster.
Speaking with Bully Ray, Kross admitted that he was perhaps "too compliant" when it came to being saddled with the widely-criticised helmet and Demolition-esque ring attire given to him on Raw. While he says he "should have said 'no'," he wanted to embrace these ideas like people within WWE had done with his own suggestions (h/t WrestlingNews.co):-
"I went wrong with this, in retrospect, maybe perhaps being too over compliant. I wasn't crazy about the outfit. Now I will say, I felt comfortable wearing it. I knew it looked a little silly, but from my point of view at the time, I wanted to embrace these ideas given to me because people previously had embraced the ideas I had given to them. It was a collaboration. I wanted to demonstrate that at the time. I probably should have said no, and I probably should have tried to sell them on what we created and what we had done in NXT, and say I really believe we should have really stayed the course with this, and fans were invested in this."
Kross added that he felt there could have been greater continuity between his NXT and Raw runs, as the dissonance prompted the audience to disconnect. But when it got to the point that he did raise concerns, the former NXT Champion was told to "stay the course":-
"There are two things to this. The first thing I will say, I did at a point, I believe it was the second week of the outfit, I did speak with management. I said, 'Look, I'm saying this out of professionalism and respect. Based on the reaction from last week, which is measurable through social media and the live reaction as well, this is not being received well. So respectfully, I do believe we should attempt to change course at this point before it's too late, or we can attempt to develop some sort of narrative that we can put on television where we can connect what I was doing on NXT vs what I'm doing here because people don't understand what's going on.' To paraphrase, I was told to just stay the course, which I thought at the time was crazy. "
Kross then clarified that he kept things firm but respectful:-
"I did speak up very early, but in a respectful manner. I never walked into anybody's office or told somebody, 'I'm not doing this.' Nothing like that at all. I said, 'I want to be a return on your investment. If I can't do that, I'm going to be out of here. I know how this works. So the course we're on right now, we're about to go off a cliff.' I did make that very clear."
Released by WWE as part of one of its latest round of "budget cuts" on 4 November, Kross had transitioned from NXT to RAW shortly after dropping the NXT Title to Samoa Joe in July. Along with the aforementioned attire, Scarlett's removal as his manager and poor booking between the ropes (Kross debuted with a loss to Jeff Hardy) are typically cited as reasons for why things didn't work out for him on Monday nights.
Kross' 90-day non-compete clause should expire on 2 February.
Create Content and Get Paid
---